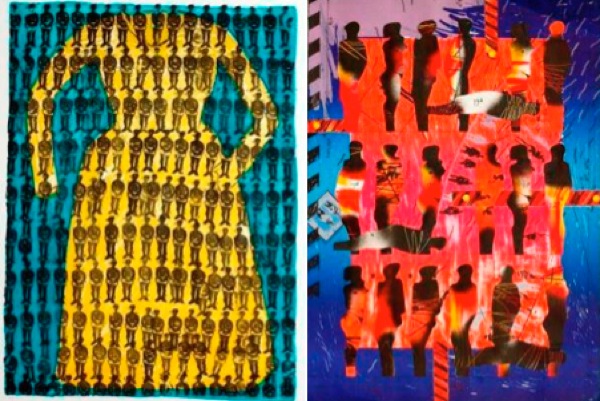 Sept. 3-Dec. 7: 'Renderings'
Mechanical Hall Gallery highlights prints from Brandywine Workshop
9:33 a.m., Aug. 19, 2014--The University of Delaware's Mechanical Hall Gallery will host an exhibition highlighting a selection of prints from the Brandywine Workshop in Philadelphia, Renderings: New Narratives and Reinterpretations, from Sept. 3 through Dec. 7.
The exhibition focuses on contemporary artists whose works question, define, and reconsider the historic role of memory in image making.
June 5: Blue Hen 5K
University of Delaware graduates planning to attend Alumni Weekend are encouraged to register for the annual Blue Hen 5K walk and run, which will be held Sunday morning, June 5.
June 6-9: Food and culture series
The 20th annual June Lecture Series at the Osher Lifelong Learning Institute at UD in Wilmington will be held June 6-9. Titled 'June a la Carte,' this year's program focuses on great political documents, feminism, world politics and a Newark cuisine sampler.
Viewed together, the works accent the multiple and varied ways in which the ritualized politics of remembering, a key cultural practice of African American and African Diaspora artists, may be visualized.
Curated by Cheryl Finley, associate professor of art history and director of visual studies at Cornell University, Renderings posits that contemporary artists employ remembering as an aesthetic strategy. 
In a purposeful process — a symbolic possession of the past — African American and African Diaspora artists have found it necessary to reach back in time to reclaim important emblems and icons of history as a way of understanding their relation to the present. 
Practicing a form of "mnemonic aesthetics," they reinterpret the symbols of the past to focus on the unfolding of black history, identity, and culture in local, national, and global contexts. 
By making ritual sojourns to the past, these visual artists exercise the same sense of responsibility for their history that Toni Morrison has identified in the work of African American writers.
This approach to printmaking both rehearses and privileges the fragile and fleeting associations of memory and forgetting in the continual balancing act of identity formation.
The artists in Renderings show how aesthetic strategies of repetition and rhythm used in contemporary printmaking and digital-imaging practices are mobilized in a concentrated effort to retain a memory that threatens to disappear, while utilizing it to shape identity and define the future. 
Sedrick Huckaby's 99% Project, for example, honors individuality and community, while Ayanah Moor repurposes and repeats prose of Zora Neale Hurston. Artists such as Hank Willis Thomas, Robert Pruitt and Andrea Chung attach great importance to narratives presented in journalism, fashion photography, comic books, and tourism advertising.
Culled from the rich holdings of the Brandywine Workshop archive, the divergent subjects presented in Renderings were made by an intergenerational, international group of African Diaspora artists whose work goes beyond the politics of race and stereotyping to confront issues of freedom and social justice in a global context. 
Inspired by multiple and transnational histories, such as the impact of the African liberation, civil rights, women's rights, black power, black arts and gay rights movements, their figurative, abstract, and multimedia works offer new interpretations and, hence, new renderings of the past's impact on the future.
Dedicated to the creation, documentation, and preservation of culturally diverse American art, the Philadelphia-based Brandywine Workshop was launched in 1972 by Allan L. Edmunds and other African American artists. 
When it was founded, the workshop was principally concerned with underserved and underrepresented artists. It continues this mission, with a reach that is both national and international. In addition to working with local artists and students, the workshop has sponsored more than three hundred artist residencies and published works by artists from across the world. 
The University Museums' African American art collection includes an important selection of prints donated by the Brandywine Workshop in honor of Paul R. Jones in 2004.
'Renderings' programming
Thursday, Sept. 4, 5-7:30 p.m. Opening reception and program on education, activism and printmaking. A conversation with Allan L. Edmunds, founder and director, Brandywine Workshop. Program starts at 5:30 p.m. in the Mechanical Hall Gallery. RSVP at 302-831-8037 or universitymuseums@udel.edu.
Tuesday, Sept. 16, 5 p.m. Artist's talk with Andrea Chung, 204 Kirkbride Hall.
Thursday, Oct. 2, 5:30-7:30 p.m. First Thursday open house, Mechanical Hall Gallery.
Wednesday, Oct. 15, 12:30-1:15 p.m. Perspective, P. Gabrielle Foreman, Ned B. Allen Professor of English and professor of Black American Studies, Mechanical Hall Gallery.
Wednesday, Oct. 22, 1:30-2:15 p.m. Perspective, Colette Gaiter, associate professor of art, Mechanical Hall Gallery.
Wednesday, Oct. 29, 5:30 p.m. Lecture, "Building the Smithsonian National Museum of African American History and Culture: A Curator's Perspective,"
Jacquelyn D. Serwer, chief curator, National Museum of African American History and Culture, Smithsonian Institution, Washington, D.C., 230 Alfred Lerner Hall.
Friday, Dec. 5, 12:30-1:15 p.m. Perspective, "Renderings Revisited," Julie L. McGee, curator of African American art and associate professor of Black American Studies, Mechanical Hall Gallery.