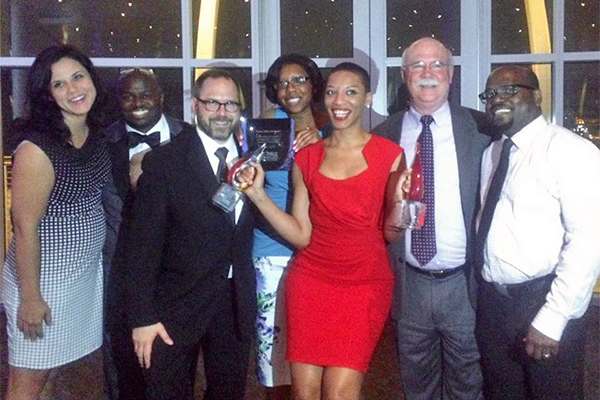 Community service
Public Allies Delaware wins National Impact Award
8:31 a.m., Aug. 14, 2014--Public Allies Delaware, a program of the University of Delaware Center for Community Research and Service, has won the National Impact Award, the highest honor awarded among the 23 regional networks.
The Delaware chapter was recognized for its ongoing and consistent effort to help program participants turn their 10-month apprenticeship experiences into long-term community contributions.
National Medal of Science
President Barack Obama recently presented the National Medal of Science to University of Delaware alumnus Rakesh Jain.
Warren Award
Rosalind Johnson, assistant dean for student success in the NUCLEUS Program in UD's College of Arts and Sciences, was presented the John Warren Excellence in Leadership and Service Award during a May 26 ceremony.
Tina Morrow, Delaware director, said was pleased to be recognized but quickly turned the attention back to the Allies, noting that one of the key lessons she has learned "is to get out of the way." 
"These young leaders are highly self-motivated," Morrow said. "Our job is to hold them accountable to their dreams and aspirations and support their creativity, energy and passion." 
The state organization also was presented with the Alumni Engagement Award for model programming in communications, professional development support. Shefon Taylor, of the Public Allies Classes of 2011 and 2012, was on hand to accept the award.
Both awards were given during the farewell celebration for national Public Allies CEO Paul Schmitz, who announced his intention to end his 21-year tenure with the organization earlier this year.
Delaware Public Allies co-founder Tony Allen, a UD alumnus and member of the University's Board of Trustees, joined the festivities, as well. 
"What a great night," Allen said. "A dear friend and colleague [Paul] and my first love  [Delaware] were honored for the same things -- giving voice to leadership, service and young people who can quite literally, change the world. That's love in action." 
Examples of work by the state's Public Allies include the following:
Browntown
Partnering with the Browntown Civic Association to create a youth-led civic association, the group started a basketball league that drew the attention of the Philadelphia 76ers organization, which hosted a clinic for the league in the summer of 2013. 
A Public Allies-led collaboration between community leaders, residents and local law enforcement helped to facilitate discussions about civic participation in reducing the incidence of crime.
Downtown Wilmington
A Public Allies project centered on an affordable live/work rental community for artists in downtown Wilmington that includes a tenant association responsible for shows in the Lofts' gallery space, setting ground rules for tenant use of community space, and building community between resident artists. 
North Brandywine Village
A partnership was developed with the city of Wilmington to work with the North Brandywine neighborhood to create Friends of One Love Park, to put in place an effort to maintain the park, and to work with other entities in the city to help revitalize the neighborhood.
Simonds Gardens
A partnership was developed with the Rose Hill Community Center to develop of a Youth Café. The café helps youth develop entrepreneurial skills and provides a valuable service to the community through the sale of T-shirts and healthy snacks.
Westside 
Public Allies was involved in creating a community garden and the neighborhood farmers market, which has since evolved into the West Side Grows initiative. This project received the 2011 City Life award for partnership of the year.
About Public Allies 
In April, Public Allies Delaware celebrated its 20th anniversary.
Since its founding, the AmeriCorps program has graduated more than 400 Public Allies who have contributed more than 750,000 hours of public service to communities throughout the state. 
Its longstanding partnership with UD's Center for Community Research and Service is a model for young adult service organizations throughout the country.