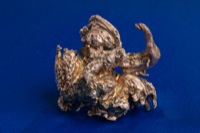 Sept. 3-Dec. 7: 'Sculpted by Nature'
Mineralogical Museum to feature exhibition 'Sculpted by Nature'
10:10 a.m., Aug. 21, 2014--The University of Delaware Mineralogical Museum in Penny Hall will host the exhibition "Sculpted by Nature: Silver and Copper from the Peter H. Farquhar Collection" from Sept. 3 through Dec. 7.
Throughout history, massive amounts of copper and silver have been mined from noncrystalline mixtures of several minerals in deposits such as the huge copper mines of Utah and Arizona and the silver veins of Mexico. However, copper and silver also occur very rarely as pure metals in a variety of crystalline or wire-like shapes.
June 5: Blue Hen 5K
University of Delaware graduates planning to attend Alumni Weekend are encouraged to register for the annual Blue Hen 5K walk and run, which will be held Sunday morning, June 5.
June 6-9: Food and culture series
The 20th annual June Lecture Series at the Osher Lifelong Learning Institute at UD in Wilmington will be held June 6-9. Titled 'June a la Carte,' this year's program focuses on great political documents, feminism, world politics and a Newark cuisine sampler.
As a result of the conditions of their growth and their internal atomic structures, these exceptional specimens of copper and silver may mimic organic tree-like forms or abstract sculptures; they may also form complex, well-defined crystals in geometric shapes. 
Examples are known from the copper and silver deposits of the Keweenaw Peninsula in Michigan and the silver mines of the Kongsberg district in Norway. 
These spectacular "sculptures" of natural copper and silver are on view through the generosity of a loan by Peter H. Farquhar, a professor, management consultant, magician and collector.
'Sculpted by Nature' programming
Thursday, Nov. 6, 5:30-7:30 p.m. First Thursday open house, Mineralogical Museum, in Penny Hall.
Photo by Evan Krape