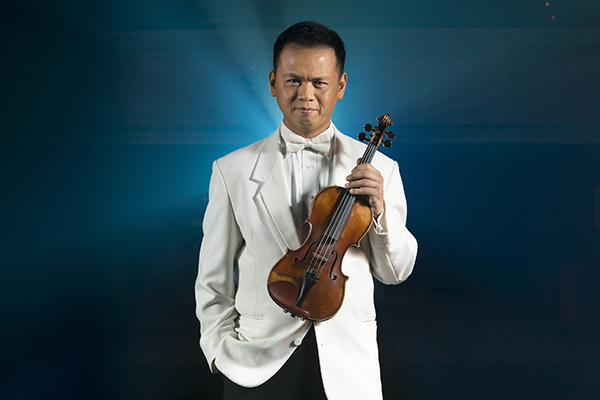 Governor's arts awards
Faculty member Xiang Gao, two alumni win state recognition
9:55 a.m., Aug. 22, 2014--Xiang Gao, Trustees Distinguished Professor of Music at the University of Delaware and a renowned concert violinist, has been selected to receive a 2014 Delaware Governor's Award for the Arts for his contributions to the state as a musician and innovator.
Gao will join five other recipients — two of them UD alumni — of individual awards and two organizations that won group awards at a ceremony at 7 p.m. Monday, Oct. 6, at the Grand Opera House in Wilmington. The event is free and open to the public, but an RSVP is required, either by email delarts@state.de.us or by calling 302-577-8278.
National Medal of Science
President Barack Obama recently presented the National Medal of Science to University of Delaware alumnus Rakesh Jain.
Warren Award
Rosalind Johnson, assistant dean for student success in the NUCLEUS Program in UD's College of Arts and Sciences, was presented the John Warren Excellence in Leadership and Service Award during a May 26 ceremony.
"I'm thrilled to join with the Delaware State Arts Council in recognizing the outstanding work" of the recipients, Gov. Jack Markell said. "Through their art, as well as their leadership, education, innovation and advocacy, they have had a significant and profound impact on the artistic and cultural life of Delaware."
The awards announcement called Gao "one of the world's most successful concert violinists and multifaceted musicians from China [whose] musical integrity and virtuoso technique have gained accolades from audiences and reviewers around the globe." 
He has performed as a soloist with more than 100 symphony orchestras worldwide and is a founding member of the China Magpie ensemble of Yo-Yo Ma's Silk Road Project and of 6ixwire, a Delaware-based crossover duet with soloist Cathy Yang playing the erhu, a traditional Chinese instrument.
In announcing the Governor's Awards, Markell noted that Gao has particularly contributed to the arts in the state by creating and directing the popular, fast-growing and innovative UD Master Players Concert Series. 
That series, with Gao as founding artistic director, will begin its 11th season with a Sept. 27 concert titled 1979, marking 35 years of normalized U.S.-China relations. The concert will feature classical and folk music from the two nations and will include Gao's only solo performance of the season. 
Gao, who joined the Department of Music faculty in 2001, has previously won two Delaware Division of the Arts Individual Artist Fellowships and has performed numerous times as a volunteer at Delaware hospitals, senior centers, libraries and schools, where community members might not normally be able to attend a concert.
Alumni recipients
Also selected to receive 2014 Governor's Awards for the Arts were Sharon Baker, who earned her associate degree in 1971 and a bachelor's degree in 1973, both from UD, and Billie Travalini, a 1983 UD graduate.
Baker, co-founder of Teleduction Inc., is an independent filmmaker who has filmed documentaries in Africa, China, Central America, Europe and throughout the United States. She also continues to create stories in Delaware, helping to raise visibility and support for the arts in the state.
Her films, television programs and screenplays have been recognized at numerous festivals, have aired on networks including PBS, the History Channel and National Geographic and have won national awards and nine regional Emmys.
Travalini is an award-winning writer and educator who has volunteered her time coordinating and founding numerous writing conferences and other professional development opportunities in the state. She has spent years teaching students served by Delaware's Department of Services for Children, Youth and Their Families, where she uses creative writing to inspire critical thinking.
The creator of two anthologies of Delaware poetry and prose, Travalini previously received two Individual Artist Fellowships from the state Division of the Arts.
About the awards
The Governor's Awards for the Arts are coordinated by the Delaware Division of the Arts in conjunction with the state Arts Council and the governor's office. Recipients are selected after an extensive nominating process.
Article by Ann Manser
Photo by Evan Krape