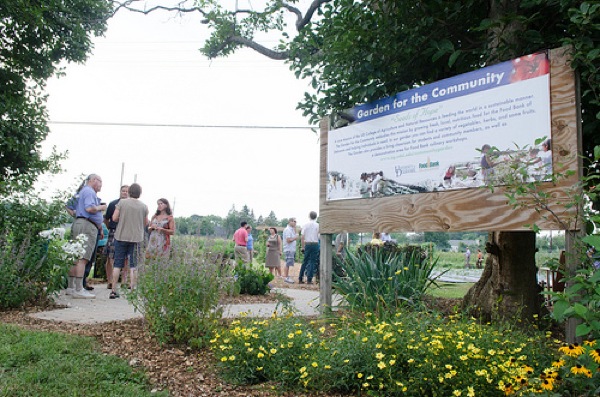 Sept. 4: 'Evening in the Garden'
CANR and Food Bank of Delaware will hold an 'Evening in the Garden'
3:53 p.m., Aug. 19, 2014--The University of Delaware's College of Agriculture and Natural Resources (CANR) and the Food Bank of Delaware will hold the sixth annual "Evening in the Garden" from 5:30 to 7:30 p.m., Thursday, Sept. 4, at UD's Garden for the Community, which is located off South College Avenue near the Girl Scouts building.
To celebrate the bounty of the Garden for the Community, those who attend will enjoy wine and beer tastings, live entertainment from the Ellen Lebowitz Quartet, a four-piece jazz group with piano, drums, bass and voice, and tours of the garden. 
June 5: Blue Hen 5K
University of Delaware graduates planning to attend Alumni Weekend are encouraged to register for the annual Blue Hen 5K walk and run, which will be held Sunday morning, June 5.
June 6-9: Food and culture series
The 20th annual June Lecture Series at the Osher Lifelong Learning Institute at UD in Wilmington will be held June 6-9. Titled 'June a la Carte,' this year's program focuses on great political documents, feminism, world politics and a Newark cuisine sampler.
The evening's menu includes garden-fresh foods straight from the Garden for the Community. Students and chefs from the Culinary School at the Food Bank of Delaware will serve peppers stuffed with shrimp, grilled corn and quinoa, braised chicken with tomatoes and peppers, eggplant stuffed with Italian cheeses and more in a food station set-up. The UDairy Creamery staff will also be on hand to scoop ice cream. 
"Our annual Evening in the Garden event is a great opportunity for us to showcase the skills of our talented students from the Culinary School," said Food Bank of Delaware President and CEO Patricia Beebe. "Workforce development is important to us at the food bank, and this annual event gives students real-world experience working a catered fundraising event."
The Garden for the Community project is a partnership between the Food Bank of Delaware and the CANR faculty and staff, undergraduate students and graduate students. 
Registration is $40 per person. A student discount is available for $20 per person, but student ID's must be shown to get the discount. The price includes dinner, wine, beer and entertainment. Attendees must RSVP by Monday, Aug. 25. If tickets are available after the RSVP deadline, the price increases by $10.
To purchase tickets, contact Kim Turner at 302-444-8074 or kturner@fbd.org. 
Online registration is also available.
Those who attend are encouraged to bring a bag of nonperishable goods for the Food Bank of Delaware.