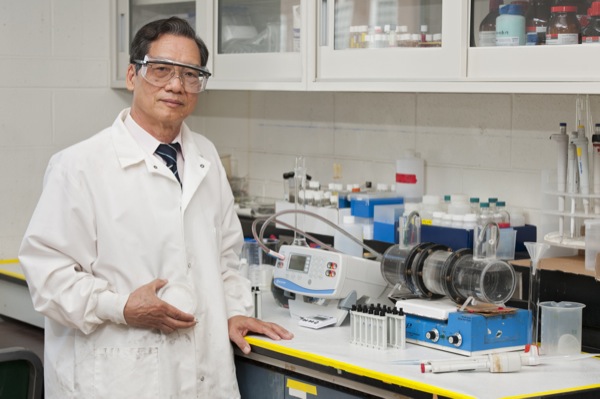 Pioneering work cited
ACS symposium on water treatment processes honors UD's Huang
1:48 p.m., Aug. 25, 2014--A special symposium honoring the University of Delaware's C.P. Huang, a pioneer in aquatic chemistry, was held during the 248th American Chemical Society national meeting and exposition held Aug. 10-14 in San Francisco.
The symposium was titled "Thermodynamics and Kinetics in Treatment Processes: Past, Present and Future."
National Medal of Science
President Barack Obama recently presented the National Medal of Science to University of Delaware alumnus Rakesh Jain.
Warren Award
Rosalind Johnson, assistant dean for student success in the NUCLEUS Program in UD's College of Arts and Sciences, was presented the John Warren Excellence in Leadership and Service Award during a May 26 ceremony.
It included a host of oral and poster presentations and featured a talk by Huang, the Donald C. Phillips Professor of Civil and Environmental Engineering at UD, on "Recent Advances in Catalytic-Electrochemical and Photo-Electrochemical Reactions for Water Purification and Beyond."
Symposium co-organizers were Virender K. Sharma, Pei Chui, Allen Davis, Zhi-min Qiang and Guo-hua Chen. Also assisting were Chinese-American Professors in Environmental Engineering and Science members Jianmin Wang and Baoling Deng.
About C.P. Huang
Huang, who joined the UD faculty in 1974, is known worldwide for his work in environmental physical chemistry. He is credited with conducting pioneering research not only on the fate, transport and behavior of pollutants in aquatic environments but also on treatment and remediation methods.
He has written more than 240 refereed articles and 30 book chapters and has edited six books, and has supervised 70 master's degree candidates and 47 doctoral candidates.
Huang was named the recipient of the University's Francis Alison Award, its highest faculty honor, in 2008. 
In 2012, he was presented the Gordon Maskew Fair Award by the American Academy of Environmental Engineers.
Huang received his bachelor's degree at the National Taiwan University and went on to earn a master's degree in environmental engineering and a doctorate in aquatic chemistry, both from Harvard University. At Harvard, he studied under Werner Stumm, who is considered the father of the multidisciplinary field of aquatic chemistry.
Photo by Evan Krape