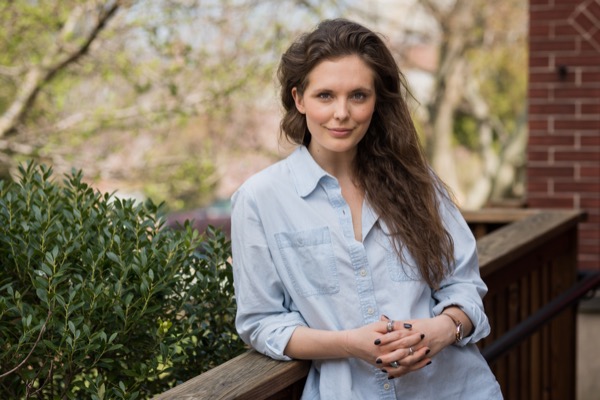 Truman Scholar
UD junior Erin Dugan named a 2015 Truman Scholar
12:55 p.m., April 20, 2015--University of Delaware junior Erin Dugan, a public policy major in the Honors Program, with minors in economics and public health, has been named a 2015 Truman Scholar.
Dugan, a native of Salt Lake City, Utah, is one of 58 new scholars selected from a pool of more than 600 applicants, including 200 finalists from 135 institutions. At UD, she is a Eugene du Pont Memorial Distinguished Scholar, a program which is funded by the Unidel Foundation.
National Medal of Science
President Barack Obama recently presented the National Medal of Science to University of Delaware alumnus Rakesh Jain.
Warren Award
Rosalind Johnson, assistant dean for student success in the NUCLEUS Program in UD's College of Arts and Sciences, was presented the John Warren Excellence in Leadership and Service Award during a May 26 ceremony.
The federal scholarship provides $30,000 for graduate study and is awarded to juniors based on their records of leadership, public service and academic achievement. 
The 19th Truman Scholar in the University's history, Dugan intends to pursue a dual graduate degree in public health and public policy at the University of Michigan, Ann Arbor.
Having come to UD as a University Studies student, Dugan's interest in public health and public policy began with Introduction to Public Policy and Introduction to Public Health classes taught by Erin Knight, a Health Policy Fellow in UD's Center for Community Research and Service.
Dugan's commitment to public service in the areas of public health and public policy was reinforced by working at a federally qualified health center as part of a summer enrichment program at the University of Michigan.
"Working in Detroit was an eye-opening experience," Dugan said. "I left there feeling incredibly grateful for the opportunities I have had in my life, and I want to give this back to others." 
Further goals include using her health policy and public policy expertise to address health issues and health care disparities based on socio-economic status. 
"I would like to take what I learn in the classroom and apply it to the real world," Dugan said. 
Dugan, who was one of the two finalists for the award from her graduating class at Judge Memorial High School in Salt Lake City, said she was completely surprised to learn she had been named a Truman Scholar. 
"I enjoyed meeting the other finalists from Utah, and I was extremely humbled to be given this opportunity," Dugan said. "My parents, Sarah and Dan Dugan, have been my number one supporters."
Dugan also thanked the Honors Program staff, including Michael Arnold, director, Kevin Liedel, program coordinator, Raymond Peters, assistant director, Kristin Bennighoff, senior associate director, and Katharine Kerrane, former senior associate editor. 
Support also came from Sue Serra, assistant director in the Office of Service Learning, UD alums Ryan Leonard and Kevin Sun, and Scott Mason, associate director, University Student Centers. 
At UD, Dugan has made an impact on campus as chair of the UD Allocations Board, an Honors Program Writing Fellow, the operations coordinator for UD Alternative Breaks and as a researcher with Erin Knight in the Center for Community Research and Service. 
"Erin has all of the qualities desired in a Truman Scholar," Peters said. "I can vouch for her strong desire for a public service career, and I believe she will continue to serve as a change agent for the public good and later play a key role in determining public policy."
Bennighoff remarked that Dugan had made a strong application for the Truman Scholarship.
"We have not had a woman from UD win the Truman Scholarship since 2005, and I am proud of Erin's success," Bennighoff said. "Her knowledge of public health issues and policies in the state of Utah and beyond is impressive, and she did an excellent job holding firmly to her ideals throughout the application and interview process."
The University of Delaware is a Truman Honor Institution, a distinction that recognizes active encouragement of outstanding young people to pursue careers in public services, effective promotion of the Truman program on campus, and sustained success in helping their students win Truman Scholarships. 
Truman Honor Institutions also include Princeton University, Harvard University, Yale University, the University of Virginia, Duke University, the Massachusetts Institute of Technology, Stanford University and the University of North Carolina Chapel Hill. 
About the Truman Scholarship
The Truman Scholarship Foundation was established by Congress in 1975 as the federal memorial to President Harry Truman. The foundation awards scholarships for college students to attend graduate school in preparation for careers in government or elsewhere in public service. 
Each new Truman Scholar receives up to $30,000 for graduate study. Scholars also receive priority admission and supplemental financial aid at some premier graduate institutions, leadership training, career and graduate school counseling, and special internship opportunities within the federal government. 
Recipients must be U.S. citizens, have outstanding leadership potential and communication skills, be in the top quarter of their class and be committed to careers in government or the nonprofit sector. 
Article by Jerry Rhodes
Photo by Evan Krape