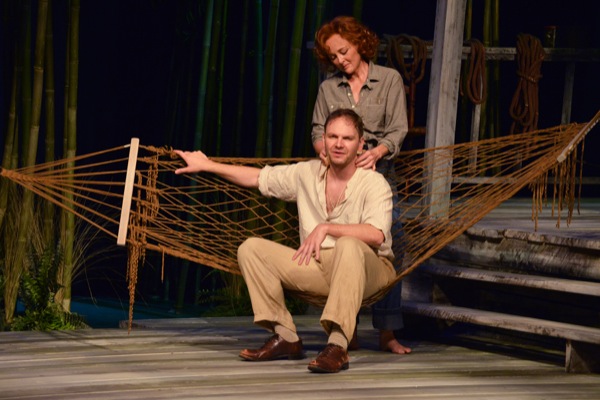 Sept. 26-Oct. 13: 'Night of the Iguana'
Resident Ensemble Players stage 'Night of the Iguana' at Roselle Center
3:18 p.m., Sept. 23, 2013--Days are becoming cooler but nights are steamy, sultry and crawling with desire in the Resident Ensemble Players (REP) production of Tennessee Williams' The Night of the Iguana, playing Sept. 26 through Oct. 13 in the Roselle Center for the Arts on the University of Delaware campus in Newark.
The author of The Glass Menagerie and A Streetcar Named Desire creates a haunting and deeply moving tale of lost souls yearning for redemption in the jungle of 1940's Mexico.
June 5: Blue Hen 5K
University of Delaware graduates planning to attend Alumni Weekend are encouraged to register for the annual Blue Hen 5K walk and run, which will be held Sunday morning, June 5.
June 6-9: Food and culture series
The 20th annual June Lecture Series at the Osher Lifelong Learning Institute at UD in Wilmington will be held June 6-9. Titled 'June a la Carte,' this year's program focuses on great political documents, feminism, world politics and a Newark cuisine sampler.
T. Lawrence Shannon, a renegade clergyman on the run, tries to escape both his demons and a busload of Texas tourists at Costa Verde, a dilapidated hotel full of cavorting guests and tormented spirits.
Maxine, a sensuous, earthy widow; Charlotte, a young girl longing for attention; Nonno, the world's oldest living poet; Hannah, a soft-spoken but straight talking artist, and a raucous group of German vacationers are joined together in this story of dying dreams, frustrated sexuality, and longed-for wisdom and understanding by one of America's greatest playwrights.
"I adore Tennessee's other, more famous plays," says director Ed Stern, "but I believe The Night of the Iguana should be considered one of his top works. It has one of his greatest scenes that speaks to the longing for human connection and he does it in such an honest, rich, and poetic way.
"And this play has a wonderfully wicked sense of humor. Many people think of Williams in a dourer light, but Iguana is quite weirdly and wildly funny."
Performances run from Saturday, Sept. 28, through Sunday, Oct. 13, with preview performances on Sept. 26 and 27. Tickets are $22- $28, with discounts for students, seniors and University of Delaware faculty and staff.
Tickets can be purchased by calling the REP box office at 302-831-2204 or in person at the Roselle Center for the Arts, 110 Orchard Rd., Newark, Monday through Friday from noon until 5 p.m.
The performance schedule for The Night of the Iguana is as follows: Sept. 26, 27, 28, and Oct. 3, 4, 5, 10, 11, and 12 at 7:30 p.m.; Sept. 29, and Oct. 5, 6, 12, and 13 at 2 p.m.
New this year on the second and third Friday performance of each production is "Roundup with the REP." After the Friday performances on Oct. 4 and 11, the REP invites the audience to join the acting company in the lobby for a cash bar, snacks, and great conversation.
The REP also presents a pre-show discussion beginning at 1:15 p.m. on Saturday, Oct. 5. This "REP Prologue" is a free and informal 20-minute presentation about the production, designed to enhance patrons' enjoyment and understanding of what they are about to experience. A talk-back in the theatre with the cast will take place following the evening performance on Thursday, Oct. 3.
The Roselle Center for the Arts is located at 110 Orchard Road, on the corner of Orchard Road and Kent Way, in Newark. A convenient parking garage is attached to the center.
A complete schedule, directions, and information on purchasing tickets can be found at the REP's website or by calling the REP's box office at 302-831-2204.
About Ed Stern
Ed Stern was producing artistic director of Cincinnati Playhouse in the Park from 1992 to 2012. During his 20-year tenure, he premiered dozens of new plays as well as securing for the Playhouse two Tony Awards (2004 Regional Theatre of the Year, 2007 Best New Musical Revival for Company, which transferred from the Playhouse to Broadway).
Among the shows he directed there were Othello, Of Mice and Men, Sweeney Todd, God of Carnage and As You Like It. He has also directed at Great Lakes Theatre Company, Repertory Theatre of St. Louis, San Jose Rep, and Cleveland Play House. 
He has been on the directing faculty at Rutgers University and taught at the William Esper Acting Studio in New York. He directed A Streetcar Named Desire for the University of Delaware's graduate theatre conservatory in 2007.
About the REP
The Resident Ensemble Players (REP), established in 2008 and located at the University of Delaware, is a professional theatre company whose mission is to engage audiences throughout the tri-state area with frequent, outstanding productions of a variety of classic, modern, and contemporary plays performed in a wide variety of styles that celebrate and demonstrate the range, breadth, and ability to transform a full-time ensemble of nationally respected stage actors who have been trained in the same way.
The REP is committed to create future audiences for live theatre by offering its productions at very low prices that enable and encourage the attendance of everyone in the region regardless of income.
Photo by N. Howatt