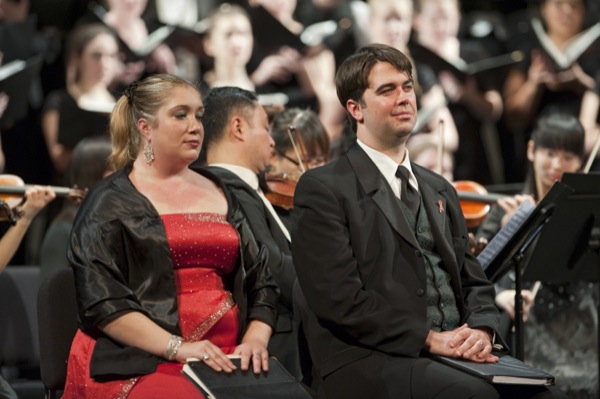 Sept. 7: Music gala
Department of Music to celebrate 75th anniversary with gala celebration
4:20 p.m., Sept. 3, 2013--Every year the University of Delaware's Department of Music invites students, faculty and the Newark community together for an evening of solo performances, faculty ensembles and unique collaborations.  
This year's gala, however, will mark a special milestone in the department's history as it celebrates its 75th anniversary with special faculty performances, internationally-known guest alumni and an assortment of pieces and ensembles.
June 5: Blue Hen 5K
University of Delaware graduates planning to attend Alumni Weekend are encouraged to register for the annual Blue Hen 5K walk and run, which will be held Sunday morning, June 5.
June 6-9: Food and culture series
The 20th annual June Lecture Series at the Osher Lifelong Learning Institute at UD in Wilmington will be held June 6-9. Titled 'June a la Carte,' this year's program focuses on great political documents, feminism, world politics and a Newark cuisine sampler.
The melodic foundation of today's music department began in 1937 when Anthony J. Loudis was hired to teach piano lessons and other courses to female students. Gaining interest from students across campus, the current department was formed to teach musicians of both genders performance and composition. 
Now, the music department offers seven undergraduate programs, including music education, and three master's programs to students from around the world. 
The department is also home to the UD Chorale, which took silver at the 2012 Béla Bartók International Choir Competition in Hungary, and the UD Symphony Orchestra, which made its international debut this year in Colombia.
To celebrate the achievements of the Department of Music and its students, Laura Kerst, program coordinator for the department, said it was important to make this year's gala, which will be held in Mitchell Hall at 8 p.m. on Saturday, Sept. 7, as unique and memorable as possible for attendees. 
All tickets are $5 and UD students can enter for free at the door if space permits, she said.
"We really want to reach out and give back to the community for helping us during our 75 years here at the University, so it was important to offer our guests a great experience at a low cost," Kerst said.
Once inside guests will be able to enjoy faculty string and jazz quartets, faculty solo performances, hear the voice talent of internationally-known UD alumnus countertenor Augustine Mercante and more. 
In addition, this year's season will feature more guest performers than usual, and faculty ensembles will perform special pieces to commemorate the department's key milestone, Kerst said. 
Although the 75th anniversary is a time of great celebration, Interim Chair Russell Murray said it also marks a time to reflect and envision where the department wants to be in the next 75 years.
Looking ahead Murray said he would like to expand outreach within the Newark community, the state and surrounding areas. In addition, continuing to enhance the curriculums and opportunities offered to students is vitally important to the department's success, he said.
"The world is changing and music's place in the world is changing, so we have to think about the needs of our students and give them the tools they need to help music and music education thrive in the future," Murray said. 
To accomplish that goal, he said, the key is to maintain and expand faculty and student engagement within the Delaware community. By doing so, the hope is that the public will regard UD music program as an integral component of the arts throughout the region.
Article by Collette L. O'Neal
Photo by Evan Krape