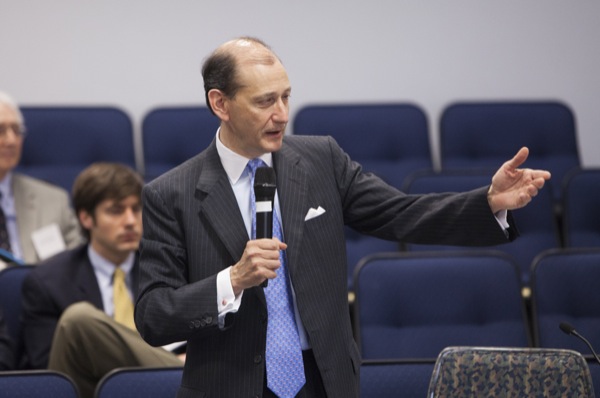 Top 100
Elson among 100 most influential leaders in corporate governance
6:44 p.m., Sept. 16, 2013--Charles Elson, Edgar S. Woolard Jr. Chair and director of the John L. Weinberg Center for Corporate Governance (WCCG) at the University of Delaware, was recently named in the National Association of Corporate Directors (NACD) seventh annual Directorship 100 list, a who's who of the most influential corporate directors and corporate governance professionals in the nation.
The NACD Directorship 100 list recognizes notable and current corporate directors and governance professionals who significantly influence boardroom practices and performance. It recognizes individual corporate directors from such public companies as American Express, General Mills, HealthSouth, Home Depot, IBM, Procter and Gamble, Xerox and UPS for their boardroom influence and leadership.  
National Medal of Science
President Barack Obama recently presented the National Medal of Science to University of Delaware alumnus Rakesh Jain.
Warren Award
Rosalind Johnson, assistant dean for student success in the NUCLEUS Program in UD's College of Arts and Sciences, was presented the John Warren Excellence in Leadership and Service Award during a May 26 ceremony.
"I am excited and honored by this recognition from an organization that I have long respected," said Elson.
Now in its seventh year, the NACD Directorship 100 recognizes directors and governance experts across a range of industries and institutions who lead through innovation, courage, integrity and commitment. 
According to Ken Daly, president and CEO of NACD, "As the role of the corporate director has significantly increased in complexity, these outstanding leaders have stepped up to meet the challenge of navigating the evolving world of corporate governance, keeping the needs of their companied and shareholders as guiding beacons. The NACD Directorship 100 honorees are an example of what all directors should strive for in carrying out their fiduciary duties, and the NACD is proud to honor these directors and governance experts."
Nominees are evaluated in four key categories: integrity, mature confidence, informed judgment and high performance standards. An independent selection committee reviews the nominees' history of advancing board performance and leading corporate governance practices in accordance with established NACD principles.
Elson formerly served as a professor of law at Stetson University College of Law in St. Petersburg, Fla., from 1990 until 2001. His fields of expertise include corporations, securities regulation and corporate governance. He holds a bachelor's degree from Harvard College and a law degree from the University of Virginia Law School.  
Elson has written extensively on the subject of boards of directors and is a frequent contributor on corporate governance issues to various scholarly and popular publications. He is currently vice chairman of the ABA Business Law Section's Committee on Corporate Governance;  a member of the Board of Directors of HealthSouth Corporation, a healthcare services provider; and a trustee at the Hagley Museum and Library, the Delaware Art Museum and the Museum of American Finance.
About NACD
The National Association of Corporate Directors (NACD) is the only membership organization focused exclusively on advancing exemplary board leadership. Based on more than 35 years of experience, NACD identifies, interprets and provides insights and information that corporate board members rely upon to make sound strategic decisions, confidently confront complex business challenges and enhance shareowner value. 
With more than 13,000 corporate director members, NACD provides world-class director education, director training and proprietary research about leading boardroom and corporate governance practices to promote director professionalism and bolster investor confidence. To create more effective and efficient corporate boards, NACD also provides independent board evaluations and custom-tailored in-boardroom education and training programs, as well as director-led conferences, forums and peer-exchange learning opportunities to share ideas about current and emerging issues.