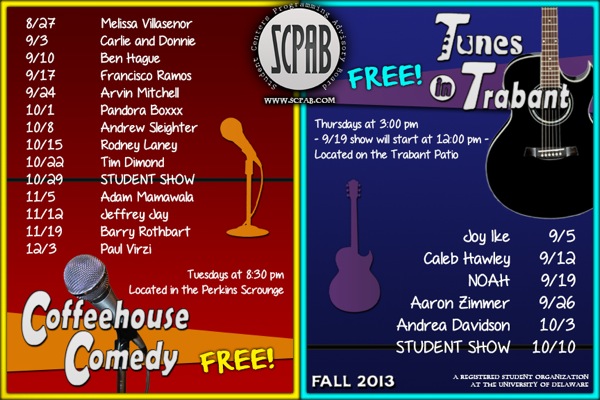 Sept. 10-Dec. 3: Coffeehouse Comedy
SCPAB announces fall Coffeehouse Comedy Series schedule
2:35 p.m., Sept. 10, 2013--The Student Centers Programming Advisory Board (SCPAB) has announced the Coffeehouse Comedy Series to be held every Tuesday evening at the University of Delaware this fall.
Different comedians will perform each week at 8:30 p.m. in the Scrounge in the Perkins Student Center. Students will be provided with a free SCPAB Coffeehouse mug, coffee and hot chocolate. The events are free of charge and do not require tickets.
June 5: Blue Hen 5K
University of Delaware graduates planning to attend Alumni Weekend are encouraged to register for the annual Blue Hen 5K walk and run, which will be held Sunday morning, June 5.
June 6-9: Food and culture series
The 20th annual June Lecture Series at the Osher Lifelong Learning Institute at UD in Wilmington will be held June 6-9. Titled 'June a la Carte,' this year's program focuses on great political documents, feminism, world politics and a Newark cuisine sampler.
The schedule for the fall Coffeehouse Series is as follows:
Sept. 10: Ben Hague
Sept. 17: Francisco Ramos
Sept. 24: Arvin Mitchell
Oct. 1: Pandora Boxxx
Oct. 8: Andrew Sleighter
Oct. 15: Rodney Laney
Oct. 22: Tim Dimond
Oct. 29: Student Show
Nov. 5: Adam Mamawala
Nov. 12: Jeffrey Jay
Nov. 19: Barry Rothbart
Dec. 3: Paul Virzi
For more information visit the SCPAB website or follow SCPAB at UD on Facebook and Twitter.
The Student Centers Programming Advisory Board is a registered student organization at the University of Delaware.