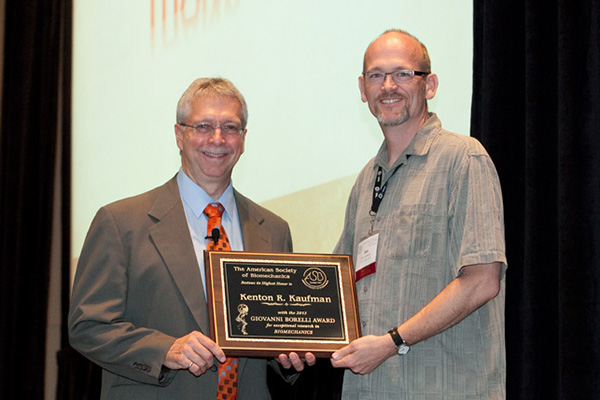 BADER honors
BADER Consortium affiliate wins prestigious biomechanics award
9:06 a.m., Sept. 25, 2013--Kenton Kaufman, director of the Scientific Technical Cores for the BADER Consortium, recently received the Borelli Award from the American Society for Biomechanics.
"This is the most prestigious honor given by the society, and we're very proud to have Ken, one of our colleagues, recognized with the Borelli award," said Steven Stanhope, director of the University of Delaware-led BADER Consortium and professor of kinesiology and applied physiology at UD.
National Medal of Science
President Barack Obama recently presented the National Medal of Science to University of Delaware alumnus Rakesh Jain.
Warren Award
Rosalind Johnson, assistant dean for student success in the NUCLEUS Program in UD's College of Arts and Sciences, was presented the John Warren Excellence in Leadership and Service Award during a May 26 ceremony.
Funded by the Department of Defense, BADER is establishing evidence-based orthopedic rehabilitation for wounded warriors so that each patient can reach his or her optimal level of function. The consortium brings together researchers, health professionals, and physicians from more than a dozen organizations across the country.
Kaufman is the W. Hall Wendel Jr. Musculoskeletal Research Professor in the Department of Orthopedic surgery at the Mayo Clinic in Minnesota. The work of his research group focuses on human locomotion, including evaluation and development of mobility aids, improvement of health and performance through exercise, and development of new techniques to improve patient care.
Their current research is aimed at improving the rehabilitation of wounded warriors, developing advanced prosthetics and orthotics, improving wheelchair mobility, and developing methods for field-based monitoring of human movement.
Kaufman also devotes time to direct patient care.
"I am extremely humbled and very honored to have been selected as the Borelli Award recipient by my colleagues in the American Society of Biomechanics," Kaufman said.
The Borelli Award recognizes outstanding career accomplishments in any area of biomechanics. The award is named after Giovanni Alfonso Borelli, a mid-17th century professor of mathematics considered to be the father of modern biomechanics.  Selection of recipients is based on originality, quality, and depth of the research and the relevance of this work to the field of biomechanics. 
Article by Diane Kukich
Photo by Dave Jenkins, Midwest Photo