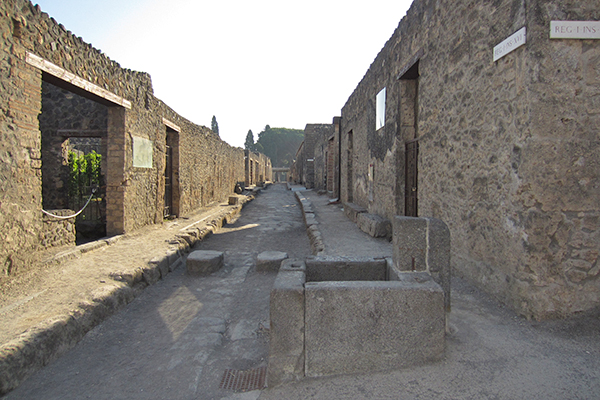 Sept. 11: 'Slaves in Ancient Pompeii'
Petersen to inaugurate art history Graduate Student Lecture Series
9:42 a.m., Sept. 6, 2013--Lauren Hackworth Petersen, associate professor, will inaugurate the University of Delaware Department of Art History's Graduate Student Lecture Series with a presentation at 5:30 p.m., Wednesday, Sept. 11, in 116 Gore Hall.
Petersen will speak on "Slaves in the Streets of Pompeii: Through the Thicks and Thins of Urban Movement." The lecture is free and open to the public. Registration is encouraged and can be completed at this website.
June 5: Blue Hen 5K
University of Delaware graduates planning to attend Alumni Weekend are encouraged to register for the annual Blue Hen 5K walk and run, which will be held Sunday morning, June 5.
June 6-9: Food and culture series
The 20th annual June Lecture Series at the Osher Lifelong Learning Institute at UD in Wilmington will be held June 6-9. Titled 'June a la Carte,' this year's program focuses on great political documents, feminism, world politics and a Newark cuisine sampler.
Petersen's talk will draw from literature, law and material evidence to reconstruct what can be known about the movements and activities of Roman slaves in the ancient city of Pompeii. Her research is part of a forthcoming book project undertaken with Sandra Joshel, professor of history at the University of Washington.
Petersen said they grounded their research in "numerous visits to Pompeii — in the scorching sun of summer, in the rain and howling wind of winter, and often amidst throngs of tourists — walking and re-imagining what we believe to have been the movements of slaves as they left the slaveholder's home to carry out the day's work." 
Petersen has been a professor at UD since 2000. She specializes in ancient Roman art and architecture and has also done extensive research in Greek and Etruscan art and assisted with the excavations at the Etruscan/Roman habitation site at Cetamura del Chianti, Italy. She received her doctorate from the University of Texas, Austin.
The Department of Art History's 2013-14 Graduate Student Lecture Series is organized by Liz Simmons and Karli Wurzelbacher (co-chairs), Sarah Leonard, Vanessa Reubendale, Jeff Richmond-Moll, Hannah Segrave and Rachel Zimmerman. The faculty adviser for the lecture series is Camara Holloway.
The full list of lectures can be found at this department web page.