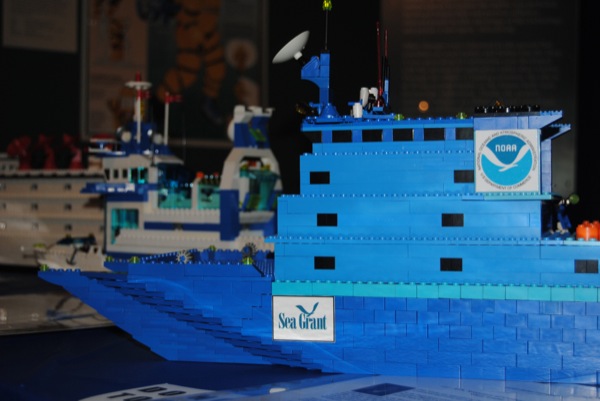 Oct. 6: Coast Day
New additions to Coast Day include Lego ships, oyster shucking contest
2:33 p.m., Sept. 16, 2013--The 37th annual Coast Day returns on Sunday, Oct. 6, from 11 a.m. to 5 p.m., rain or shine, at the University of Delaware's Hugh R. Sharp Campus in Lewes. 
This year's theme, "Building Resilient Coastal Communities," explores measures Delawareans can take to keep the coast thriving. A showcase exhibit will highlight hurricane preparedness, coastal planning and research on topics like groundwater safety and wave dynamics. UD researchers will explain how they track weather conditions to inform emergency responders, and visitors can learn how to take proper precautions to secure their homes during storms and flooding. 
June 5: Blue Hen 5K
University of Delaware graduates planning to attend Alumni Weekend are encouraged to register for the annual Blue Hen 5K walk and run, which will be held Sunday morning, June 5.
June 6-9: Food and culture series
The 20th annual June Lecture Series at the Osher Lifelong Learning Institute at UD in Wilmington will be held June 6-9. Titled 'June a la Carte,' this year's program focuses on great political documents, feminism, world politics and a Newark cuisine sampler.
Keeping with the "building" theme, new this year a special exhibit of ships made out of Lego blocks will be on view in the Cannon Laboratory. Constructed by former ship designer William S. McKinley Jr., the TEACH FLEET (Technology's Effects And Contributions Highlighted For Learning Ecological Environmental Topics) display is the largest collection of Lego ships in the world.

The exhibit includes about 75 ship models of real-life seafaring vessels that span up to 6 feet in length, ranging from tugboats to modern aircraft carriers.

"If a ship has an engine, then it's in the collection," McKinley said. "Each design is made to be an accurate representation of a type of a ship."

McKinley built the ships to educate students and the public about science, technology, engineering and math (STEM), naming each ship after a female or minority contributor to those fields. The Lego show also helps raise awareness of environmental topics.

"TEACH FLEET is a perfect fit for Coast Day," said Chris Petrone, event chair and education specialist with Delaware Sea Grant. "It is such an engaging way to learn about marine careers and the environment, while perhaps inspiring kids to build their own ships at home." 
Elsewhere at Coast Day in the ever-popular Food Festival, an Oyster Shucking Contest is being introduced for competitors to try their hands at prying open oysters while on the clock. Other contestants will vie for the title of "Delaware's Best Crab Cakes" at the Crab Cake Cook-Off, and local chefs will be handing out free soup samples at the Seafood Chowder Challenge.

Favorite activities
Other favorite activities include an event-wide treasure hunt for answers to questions about Coast Day exhibits. The Chemical Magic Show will display the wonders of marine chemistry as demonstrated by oceanographer George Luther. Children can also meet sea-dwelling animals such as horseshoe crabs and dogfish sharks at touch tanks.

Plenty of UD researchers will be on hand to explain what they do through hands-on displays, poster presentations and demonstrations in labs and outdoor tents. Wind energy, climate change, ocean microbes, algal blooms, ocean sounds and crab ecology are just a few examples of the many topics covered.
Numerous exhibitors from various organizations will share information about their focus areas, from flycasting to a boat show and environmental advocacy.

Coast Day is hosted by UD's College of Earth, Ocean, and Environment and Delaware Sea Grant. This year's sponsors include DuPont Clear into the Future, DNREC, NOAA, WMDT-CW-3, Dover Rent-All, Gamesa, Overseas Shipholding Group, Inc., Port of Wilmington, UTEC Survey, Weston Solutions, Delaware Center for the Inland Bays, ERM, Partnership for the Delaware Estuary, Statoil, Survice Engineering, WDDE, Brownfield Science & Technology, Envirotech Environmental Consulting, Water Resources Agency and L Town Surf and Earth.

Admission and parking are free, and Coast Day is open rain or shine with plenty of indoor and tented activities.
Article by Annie Birney and Andrew Cooper
Photo by Rebecca Rothweiler