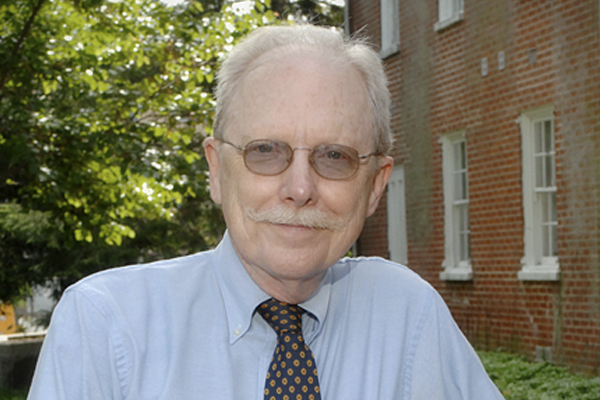 Oct. 4-Dec. 6: About the British Empire
Friday lecture series to feature Prof. Raymond Callahan
7:31 p.m., Sept. 16, 2013--A large part of the United Nations membership was, not so long ago, part of the British Empire. At its height it comprised about a quarter of both the Earth's land surface and the global population. Then in the twinkling of an eye it vanished, leaving behind some of today's most intractable problems. 
How did it come into existence, how was it run and why did it unravel so quickly? These issues will be addressed by Raymond Callahan, professor emeritus of history, in a free lecture series at Osher Lifelong Learning Institute at the University of Delaware in Wilmington this fall.
June 5: Blue Hen 5K
University of Delaware graduates planning to attend Alumni Weekend are encouraged to register for the annual Blue Hen 5K walk and run, which will be held Sunday morning, June 5.
June 6-9: Food and culture series
The 20th annual June Lecture Series at the Osher Lifelong Learning Institute at UD in Wilmington will be held June 6-9. Titled 'June a la Carte,' this year's program focuses on great political documents, feminism, world politics and a Newark cuisine sampler.
The lectures, titled "What Was the British Empire?," take place on nine Friday afternoons beginning Oct. 4 in Room 108 of Arsht Hall, 2700 Pennsylvania Ave., and are open to the public.  The series will run Oct. 4-Dec. 6 (no lecture Nov. 29), from 12:30-1:45 p.m.
Historian Callahan taught at UD for 38 years and served as director of the Master of Arts in Liberal Studies program and as associate dean of the College of Arts and Sciences. He held the John F. Morrison Chair of Military History at the U.S. Army's Command and General Staff College and is a Fellow of the Royal Historical Society. 
An expert on military history, Callahan has authored five books, most recently Churchill and His Generals. His doctoral and master's degrees are from Harvard University; bachelor's degree is from Georgetown University. 
The lecture is sponsored by the Osher Lifelong Learning Institute at the University of Delaware in Wilmington, a membership organization for adults 50 and over to exchange ideas, take classes, teach, and travel in the company of their peers. The program is a learning cooperative whose members are its students, planners, instructors, committee members, and facilitators. UD offers Osher lifelong learning programs in Wilmington, Dover, Lewes and Bethany Beach.
The lectures are free and open to the public — no registration is required. For more information, please call 302-573-4486.