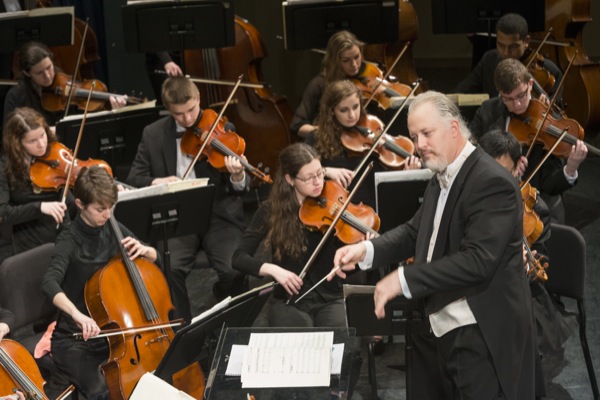 Oct. 11: Wagner concert
UD Symphony Orchestra, music historian featured in multimedia concert
12:03 p.m., Oct. 7, 2013--The University of Delaware Symphony Orchestra will be featured in a multimedia concert presentation featuring the work of Richard Wagner at 8 p.m., Friday, Oct. 11, in Mitchell Hall.
The concert, marking the 200th anniversary of Wagner's birth, will feature Gottfried Wagner, esteemed music historian and direct descendant of the composer.
June 5: Blue Hen 5K
University of Delaware graduates planning to attend Alumni Weekend are encouraged to register for the annual Blue Hen 5K walk and run, which will be held Sunday morning, June 5.
June 6-9: Food and culture series
The 20th annual June Lecture Series at the Osher Lifelong Learning Institute at UD in Wilmington will be held June 6-9. Titled 'June a la Carte,' this year's program focuses on great political documents, feminism, world politics and a Newark cuisine sampler.
Gottfried Wagner will provide narration for the multimedia experience that seeks to examine the world of the composer and his contemporaries.
James Allen Anderson, UD director of orchestral activities, said the anniversary provides a timely opportunity to examine the life, music and influence of the composer.
The program grapples with issues as diverse as the role of opera in society, anti-Semitism and antifeminist views prevalent in the music, as well as an appreciation of the composer's compositional craft and its transformational effect on the music of his peers and those that were to follow.
The event seeks to balance Gottfried Wagner's scholarly research with his own personal reflections combined with performances by the UD Symphony Orchestra.
Tickets cost $15 for adults, $10 for UD faculty and staff and senior adults, and $5 for students.
Advance tickets are available by calling the box office at the University's Roselle Center for the Arts at 302-831-2204.
If tickets are available at the door, sales will be by cash or check only.
Preceding the concert, at 8 p.m., Thursday, Oct. 10, there will be a free lecture, "Confronting Richard Wagner (1813-2013): His Life, Operas and Vision of the World," in the Loudis Recital Hall of the Amy E. du Pont Music Building. 
Speaking will be Gottfried Wagner and Janice Hamer, chorus director, composer and teacher at several distinguished international culture institutions and universities.