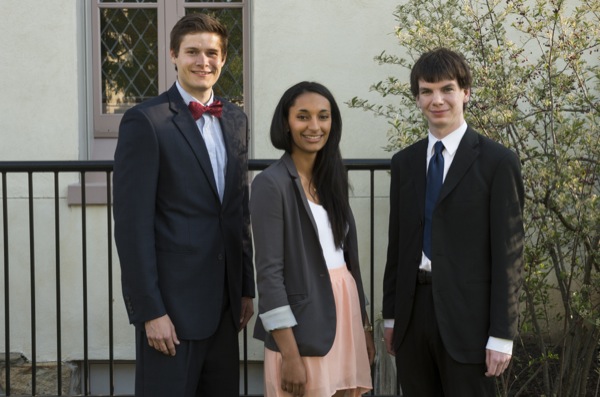 Oct. 29, Nov. 6: Plastino interest meetings
Interest meetings for Plastino Scholars Program set in Gore Hall
2:29 p.m., Oct. 8, 2013--University of Delaware students interested in becoming part of the Plastino Scholars legacy are invited to attend interest meetings for the program this fall. 
Since UD alumnus David Plastino began the program in 2007, 27 students have been named Plastino Scholars. These students have traveled around the United States and to more than 19 countries, including Sierra Leone, Ghana and Bangladesh. 
June 5: Blue Hen 5K
University of Delaware graduates planning to attend Alumni Weekend are encouraged to register for the annual Blue Hen 5K walk and run, which will be held Sunday morning, June 5.
June 6-9: Food and culture series
The 20th annual June Lecture Series at the Osher Lifelong Learning Institute at UD in Wilmington will be held June 6-9. Titled 'June a la Carte,' this year's program focuses on great political documents, feminism, world politics and a Newark cuisine sampler.
An interest meeting for undergraduate students who are interested in learning more about the Plastino Scholars Program will be held on Tuesday, Oct. 29, at 7 p.m., in 318 Gore Hall. 
A second interest meeting will take place on Wednesday, Nov. 6, at 7 p.m., also in 318 Gore Hall. 
At the meeting, students will have the chance to learn about previous Plastino Scholars, hear more about their experiences and receive details about applying to the program. 
Plastino created the program to equip students with the resources for self-designed, off-campus research experiences. The program allows students to explore their passions outside of the classroom. 
The most recent Plastino Scholars returned with a wealth of knowledge and new perspectives. In what has become a tradition in the Plastino Scholars Program, each student recounted their trip through a blog. 
Alexandra Davis: Project Pop-Up - Alexandra Davis went on an eight-week journey to Cape Town, Pretoria, and Johannesburg, South Africa, this past summer. Davis focused primarily on international economic development policy and worked hands on with the South African community to battle these issues. She credits the Plastino Scholars Program with allowing her to explore her interests outside of the traditional classroom setting. During her journey, Davis even had the chance to connect with University of Delaware alumni who aided her with her research. 
"I am confident that the diverse nature of my experience could not have been accomplished via a traditional study abroad trip or a vacation," said Davis, "And therefore I am thankful for the dynamic nature of the Plastino Scholars Program."
Ian Guthoff: Conserving America's National Parks - Ian Guthoff traveled to six national parks to study environmental preservation and conservation. At each park, Guthoff was able to create his own projects that were influential to the preservation of the parks and organized community service opportunities. Having a different experience at each place, Guthoff was able to learn about more than just the national parks. While being exposed to different landscapes and different features of the national parks, he was also exposed to the diverse people that occupy America. Guthoff credits the citizens he met with providing valuable advice and insight to him throughout his journey. 
"I am forever indebted to David A. Plastino, the Plastino Committee, and the University of Delaware for allowing me to engage the American community and affording me this tremendous opportunity," said Guthoff.  
Matt Roarty: Improvisational Theater in Chicago - Matt Roarty had the opportunity to study improvisational theater with the Summer Intensive at the iO Chicago Theater. Roarty performed on one of the country's most famous comedy stages and learned from the country's most acclaimed improvisational comedians. During his five-week stay in Chicago, Roarty met people from all around the world and explored many of the amazing sights that Chicago has the offer.
For more information about the Plastino Scholars interest meetings, stay tuned to UD social media and check out the Dare to Explore Pinterest board on UD's official account. 
Article by Alana Dolgin
Photo by Kathy F. Atkinson