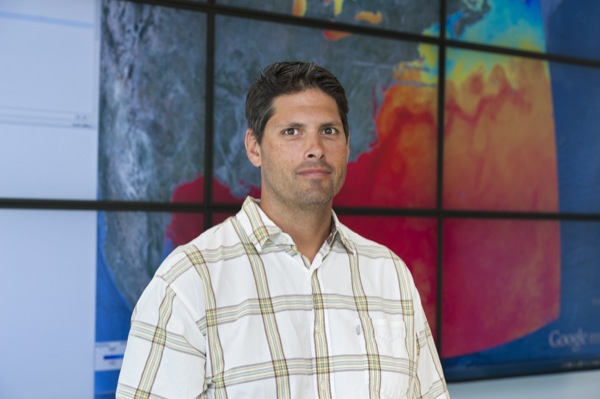 Kavli Frontiers of Science
Oceanographer Oliver to speak at National Academy of Sciences symposium
9:13 a.m., Oct. 29, 2013--Oceanographer Matthew Oliver will join a select group of outstanding early-career scientists to speak at the Kavli Frontiers of Science Symposium sponsored by the National Academy of Sciences in Irvine, Calif., Nov. 7-9. 
The prestigious event convenes distinguished researchers in various fields to discuss a broad range of scientific topics, from asteroid impacts to protein folding. 
National Medal of Science
President Barack Obama recently presented the National Medal of Science to University of Delaware alumnus Rakesh Jain.
Warren Award
Rosalind Johnson, assistant dean for student success in the NUCLEUS Program in UD's College of Arts and Sciences, was presented the John Warren Excellence in Leadership and Service Award during a May 26 ceremony.
"The symposium explores new and innovative ways to look at science, and it's a way to get people to talk across disciplines," said Oliver, assistant professor of oceanography in the College of Earth, Ocean, and Environment. "I was honored to be selected." 
Oliver uses underwater robots and satellites to examine how organisms utilize marine environments. In recent research, he combined satellite data and information on ocean currents to help predict where butterfish dwell off the Mid-Atlantic coast.
His research group has also studied penguins in the Antarctic and sharks and sturgeon along the East Coast. The work has implications on ecology and conservation.
 "We have multiple organisms that we're working with that all go toward the same questions about the interaction between organisms and the environment," Oliver explained. 
With about 100 scholars in attendance at the Kavli Frontiers of Science Symposium, Oliver will be among the roughly one-quarter presenting on their research.
The symposium was started in 1989 to encourage the exchange of cutting-edge research and conversation among young scientists. Previous attendees have been elected to the National Academy of Sciences, and eight were awarded Nobel Prizes.
"Environmental science is very much an interdisciplinary field that incorporates biology, physics, chemistry, math and technological innovation," said CEOE Dean Nancy Targett. "Matt integrates those areas with creative approaches to oceanographic questions, and we are proud to have him on our faculty."
About the professor
Oliver attended California Polytechnic State University and completed his doctoral studies at the Institute of Marine and Coastal Sciences at Rutgers University. He became a faculty member at UD in 2008 and developed the Global Visualization Lab at the University's Hugh R. Sharp Campus in Lewes.
He received a NASA New Investigator Award in 2008, a Presidential Early Career Award for Scientists and Engineers (PECASE) in 2010 and a Sloan Research Fellowship in 2012. 
Article by Teresa Messmore
Photo by Evan Krape