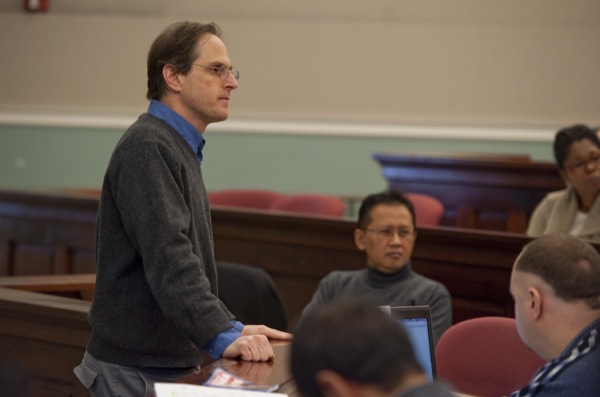 Nov. 6: Nobels explained
UD faculty experts to discuss Nobel laureates' prize-winning research
2:31 p.m., Oct. 28, 2013--University of Delaware faculty members with expertise in each of the six areas of study that won this year's Nobel Prizes will discuss the significance of the research from 7-9 p.m., Wednesday, Nov. 6, in the Interdisciplinary Science and Engineering Laboratory (ISE Lab).
The program, which is free and open to the public, is designed for non-specialists, with students, staff, faculty and community members encouraged to attend.
June 5: Blue Hen 5K
University of Delaware graduates planning to attend Alumni Weekend are encouraged to register for the annual Blue Hen 5K walk and run, which will be held Sunday morning, June 5.
June 6-9: Food and culture series
The 20th annual June Lecture Series at the Osher Lifelong Learning Institute at UD in Wilmington will be held June 6-9. Titled 'June a la Carte,' this year's program focuses on great political documents, feminism, world politics and a Newark cuisine sampler.
The annual event will consist of six short talks and an opportunity for the audience to ask questions. Sponsored by the College of Arts and Sciences, the lecture will be held in ISE Lab's first-floor commons area.
"These symposia are a chance for the UD community to learn about this year's Nobel prizes in more depth than available in typical news coverage," said Doug Doren, the college's senior associate dean for the natural sciences.
"Our faculty speakers do research in areas that are closely connected to the work being recognized, and they bring their personal insights to the talks. This year, the topics range from the short stories of Alice Munro to the theoretical prediction and experimental confirmation of the Higgs boson."
This year's speakers and their topics are:
Siobhan Carroll, assistant professor of English, will speak about writer Alice Munro, winner of the literature prize who was described by the Nobel committee as a "master of the contemporary short story."
Kenneth van Golen, associate professor of biological sciences, will describe the work done by James E. Rothman, Randy W. Schekman and Thomas C. Suedhof, who were awarded the Nobel Prize in Physiology or Medicine for "their discoveries of machinery regulating vesicle traffic, a major transport system in our cells."
Stuart Kaufman, professor of political science and international relations, will discuss the work of the Organization for the Prohibition of Chemical Weapons, awarded the Nobel Peace Prize "for its extensive efforts to eliminate chemical weapons."
Sandeep Patel, associate professor of chemistry and biochemistry, will speak about the Nobel Prize in Chemistry, awarded to Martin Karplus, Michael Levitt and Arieh Warshel for developing computational models of complex chemical systems.
Frederick Bereskin, assistant professor of finance, will speak about the Sveriges Riksbank Prize in Economic Sciences in Memory of Alfred Nobel, awarded to Eugene F. Fama, Lars Peter Hansen and Robert J. Shiller "for their empirical analysis of asset prices."
Stephen Barr, professor of physics and astronomy, will discuss the physics prize, given to Francois Englert and Peter W. Higgs for the theoretical prediction of "a mechanism that contributes to our understanding of the origin of mass of subatomic particles … recently confirmed through the discovery of the predicted fundamental particle."
Article by Ann Manser, with information from the Nobel Prize organization