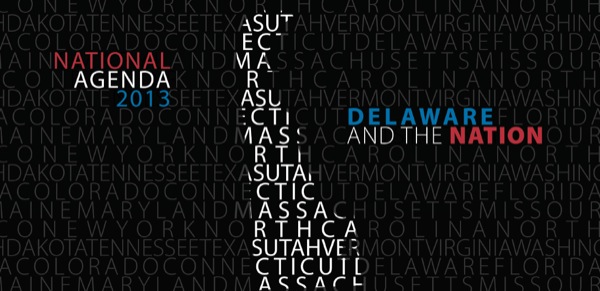 Oct. 30: 'Delaware and the Nation'
National Agenda looks at Delaware's place in national political picture
10:40 a.m., Oct. 24, 2013--The 2013 University of Delaware National Agenda program will present "Delaware and the Nation" at 7:30 p.m., Wednesday, Oct. 30, in Mitchell Hall.
The event will feature a timely report from the University's Center for Political Communication about how Delaware fits into the national portrait of politics and human development.
June 5: Blue Hen 5K
University of Delaware graduates planning to attend Alumni Weekend are encouraged to register for the annual Blue Hen 5K walk and run, which will be held Sunday morning, June 5.
June 6-9: Food and culture series
The 20th annual June Lecture Series at the Osher Lifelong Learning Institute at UD in Wilmington will be held June 6-9. Titled 'June a la Carte,' this year's program focuses on great political documents, feminism, world politics and a Newark cuisine sampler.
Panelists include Paul R. Brewer, acting director of the center and professor of communication, and David C. Wilson, interim associate dean for the social sciences in the College of Arts and Sciences and associate professor of political science and international relations at UD.
Panelists also include Sarah Burd-Sharps, co-director of Measure of America with the Social Science Research Council, and Michael Dimock, director of the Pew Research Center for the People and the Press.
At the presentation, the Center for Political Communication will reveal the results of a new poll that measures what Delawareans think about major political issues and political figures. 
"There's extensive polling on national public opinion, but comparatively little polling on Delaware public opinion," Brewer said. "We'll also be unveiling never seen before results of our own new poll." 
Guests will compare the First State with other states and the nation as a whole, with topics ranging from Delaware news and politics, the 2016 presidential campaign, gay marriage, voting rights, Internet security and surveillance, and the role of social media in politics.
Brewer described the program as a rare opportunity to hear what Delawareans think about politics and how the First State fits into the national political scene.
"We'll be talking about how Delawareans view major national and state politicians, including prominent alumni such as Joe Biden and Chris Christie, both of whom are in the national conversation about the 2016 presidential election," Brewer said. "We'll also be talking about where the Delaware public stands on gay marriage a half-year after the state passed a law making it the 11th state to recognize same sex marriage."
National Agenda is sponsored by the Center for Political Communication and the William P. Frank Foundation of Delaware. 
Next in the National Agenda series is a screening of the documentary Terms and Conditions May Apply, which will be held at 7:30 p.m., Wednesday, Nov. 6, in Mitchell Hall. The film explores issues of privacy in an increasingly digitized world.
Article by Jerry Rhodes