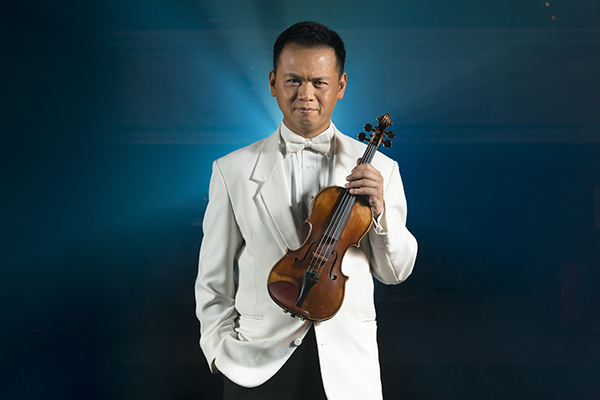 Oct. 18: MPCS concert sold out
Master Players Concert Series concert, prelude dinner sold out
9:55 a.m., Oct. 16, 2013--The University of Delaware Master Players Concert Series "Mozart Celebration III" concert and prelude dinner on Friday, Oct. 18, are sold out. There are no reserve tickets available at the door.
The concert, being held in the Gore Recital Hall of the Roselle Center for the Arts, will feature the music of Mozart and Shostakovich.
June 5: Blue Hen 5K
University of Delaware graduates planning to attend Alumni Weekend are encouraged to register for the annual Blue Hen 5K walk and run, which will be held Sunday morning, June 5.
June 6-9: Food and culture series
The 20th annual June Lecture Series at the Osher Lifelong Learning Institute at UD in Wilmington will be held June 6-9. Titled 'June a la Carte,' this year's program focuses on great political documents, feminism, world politics and a Newark cuisine sampler.
MPCS producing artistic director and violinist Xiang Gao will be joined by virtuoso performers to open the season. The performers include: award-winning Canadian pianist Joel Hastings, faculty pianist at the Florida State University; concert cellist Alan Stepansky, who had a distinguished orchestral career playing with the Boston Symphony Orchestra before joining the Peabody Conservatory faculty, serving as principal cellist of the Boston Pops; and UD faculty violist Esme Allen-Creighton, who is also a member of the acclaimed Serafin String Quartet. 
The Opus 3 of this special event features Mozart's G Minor Piano Quartet, as well as his Violin Sonata in G Major. The second half will feature one of the most powerful compositions by a 20th century Russian composer: Shostakovich's Piano Trio No. 2, Op. 67. 
The master classes are still open and are free of charge at 1:25-2:15 p.m. on Friday, Oct. 18, with pianist Joel Hastings in Gore Recital Hall and cellist Alan Stepansky in Puglisi Orchestra Hall, also in the Roselle Center.
For those who were unable to get tickets for "Mozart Celebration III," there are many upcoming events available and tickets are going fast. Prelude dinners sell out quickly; those who plan to attend are asked to consider making reservations for the next dinner 10 days prior to the concert. Information about the series is available at the website.
Coming attractions
• Friday, Nov. 22, 8 p.m., Gore Recital Hall. The Kavafian Duo will perform with collaborative pianist Jonathan Feldman as a part of the MPCS Great Musical Families Recital Series. Last year, the Paul Kantor family trio gave the inaugural performance and this year the world famous Kavafian family will showcase two sister performers -- Ida and Ani Kavafian. As artists on the roster of the Chamber Music Society of Lincoln Center, the sisters, who are world-class violinists and violists, have performed with the symphonies of Detroit, Colorado, Tucson, San Antonio and Cincinnati, and have recorded the music of Mozart and Sarasate on the Nonesuch label. They celebrated the 25th anniversary of their first performance together at Carnegie Hall in the fall of 2008 with a concert at Lincoln Center, which featured their Curtis Institute and Yale University students and colleagues.
An MPCS Prelude Dinner will be available. In addition, three free master classes will be held from1:25-2:15 p.m., that afternoon with violinist Ida Kavafian in Gore Recital Hall, violinist/violist Ani Kavafian in Puglisi Orchestra Hall and Feldman in 118 Amy E. du Pont Music Building.
• Saturday, Dec. 7, 3 p.m., Mitchell Hall. The holiday offering, "Music Wonderland – Holiday Pops," is created and produced by Gao, and hosted by 2013 Miss Delaware Rebecca Jackson. The concert will feature the acclaimed UD Chorale performing holiday music under the direction of Duane Cottrell. Also performing will be instrumental ensembles including the Nittany Trombone Quartet, MPCS ensemble-in-residence 6ixwire Project, and the world-traveling UD Steel Band under the direction of Harvey Price. Selected scenes from The Nutcracker will be performed by leading members of the Mid-Atlantic Ballet under the artistic direction of director Patrick V. Korstange.
The concert will be free to children under the age of 14 accompanied by ticketed adults as part of an MPCS educational endeavor made possible by generous gifts from donors who participated in the UD alumni and friends China trip, which is led by Gao.
Following the concert, there will be a free "instrument petting zoo" from 4:30-5:30 p.m. under the direction of UD's Suzanne Burton in Gore Hall and hosted by Project MUSIC scholars Sarah Kutash, Stephanie Espie and Trey Williams.
Ticket information:
The state-of-the-art Gore Recital Hall only seats 200 and those interested in attending are encouraged to purchase their tickets in advance. MPCS tickets cost $25 for the general public; $20 for senior citizens, UD faculty, staff and alumni; and $10 for students with ID. Tickets are available at the REP box office in the Roselle Center for the Arts, telephone 302-831-2204.
For more information about MPCS, see the new website.