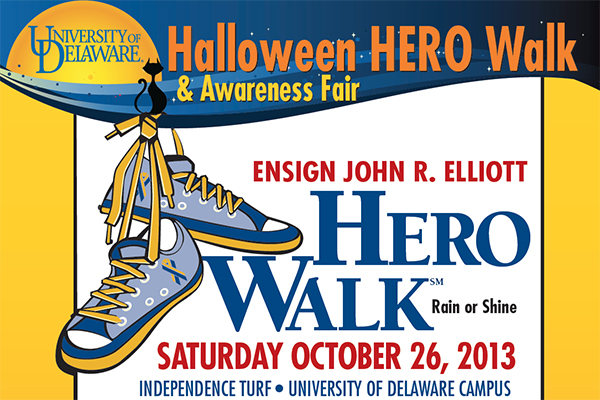 Oct. 26: HERO Fair and 5K
UD participates in national campaign promoting use of designated drivers
11:54 a.m., Oct. 9, 2013--As part of a national campaign against driving under the influence, University of Delaware Police and Student Wellness and Health Promotion at UD are hosting the Halloween HERO 5K Walk and Awareness Fair on Saturday, Oct. 26, from 9 a.m.-1 p.m. on the Laird Campus turf field.
The HERO Campaign aims to prevent drunken driving tragedies by promoting the use of safe and sober designated drivers. The campaign was developed in memory of John R. Elliot, who was killed by an intoxicated driver soon after graduating from the U.S. Naval Academy. 
June 5: Blue Hen 5K
University of Delaware graduates planning to attend Alumni Weekend are encouraged to register for the annual Blue Hen 5K walk and run, which will be held Sunday morning, June 5.
June 6-9: Food and culture series
The 20th annual June Lecture Series at the Osher Lifelong Learning Institute at UD in Wilmington will be held June 6-9. Titled 'June a la Carte,' this year's program focuses on great political documents, feminism, world politics and a Newark cuisine sampler.
"We are proud of our partnership with the HERO Campaign in support of our efforts to keep our students and our area roads safe," said UD Police Chief Patrick Ogden.
UD students and community members can form teams and register to participate in the HERO 5K here. This year, attendees are invited to dress up in Halloween costumes.
The minimum required donation fee for participation in the walk is $20 for adults, $15 for UD staff and alumni, $10 for high school and college students and $5 for children 14 and under. 
Funds raised by the Halloween HERO Walk are used to support educational, awareness and prevention programs nationwide.
The walk begins at 11 a.m. but all participants must check in at 9 a.m. on the Laird turf field. 
Prior to the walk, all students and members of the community are invited to attend the Awareness Fair on the Laird turf field, beginning at 9 a.m. The Awareness Fair will feature food, games, a DJ, a photo booth and UD mascots. 
UD student groups are welcome to set up tables for free at the Awareness Fair. Free tables and chairs will be provided for student groups that register by Oct. 11. Student groups wishing to set up tables during the event must register here. 
For more details, visit the HERO Campaign website or view this flyer. 
For the past two years, UD Police have helped promote the HERO Campaign through wristbands and registration of designated drivers at the campaign tent at Blue Hens home football games.