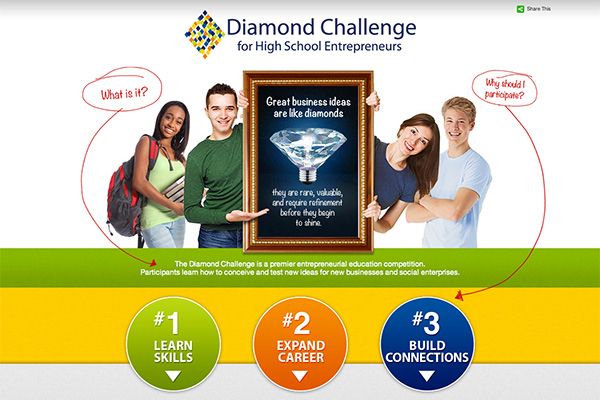 Young entrepreneurs wanted
Diamond Challenge for High School Entrepreneurs accepting registrants
8:52 a.m., Oct. 24, 2013--The University of Delaware's Horn Program in Entrepreneurship has announced the Diamond Challenge for High School Entrepreneurs, a real world business concept competition designed to offer high school students the opportunity to learn about entrepreneurship while developing their creative, analytical and communication skills.
Registration for 2014 is now open and will continue through Jan. 15. Additional information can be found on the Diamond Challenge website and Facebook page.
National Medal of Science
President Barack Obama recently presented the National Medal of Science to University of Delaware alumnus Rakesh Jain.
Warren Award
Rosalind Johnson, assistant dean for student success in the NUCLEUS Program in UD's College of Arts and Sciences, was presented the John Warren Excellence in Leadership and Service Award during a May 26 ceremony.
This year's Diamond Challenge will be held at eight preliminary round sites spanning Delaware, Maryland, Pennsylvania and New Jersey, as well as two international locations, including Africa and Moldova. The top teams will advance to the final round, which will be held at the UD campus in April. 
Participating high school students will work in teams of two to four to prepare and submit a written concept for a new business or social enterprise before pitching their ideas to a panel of seasoned entrepreneurs and business leaders. 
The Diamond Challenge will award $25,000 to the top teams, who can elect to use the prize money as scholarship funding for higher education or to pursue a business idea. A prize will also be awarded to the team that presents the concept with the greatest social impact.
"The prize money for top teams is nice but the knowledge, skills and connections all students will gain from participation is even better," said Dan Freeman, director of the Horn Program.
This year's challenge will also include a workshop for participating students and teachers on the basics of lean startup methodology, and will provide hands on experience with customer development interviewing. Details of the workshop, which will be held Nov. 16 at Junior Achievement Delaware, may be found on the website.
The Diamond Challenge is presented by the Horn Program in partnership with Delaware Technical Community College, Junior Achievement of Delaware, Delaware's Department of Education, Startup Africa, Invento and UD's Center for Economic Education and Entrepreneurship, as well as international sponsors in Africa and Moldova.