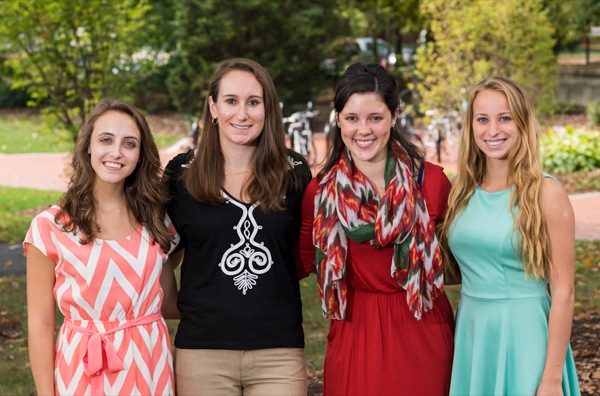 Buxbaum Scholars
Four nursing students receive scholarships for work with older adults
10:43 a.m., Oct. 31, 2013--Ann Marie Gamble, Rachael L. Cooper, Julia Pohlman and Kearstin Raby have been named Jeanne K. Buxbaum Scholars in the University of Delaware's School of Nursing for the 2013-14 academic year.
Buxbaum is the benefactor of the scholarships and assistantships, which are awarded to undergraduate and graduate nursing students who demonstrate academic excellence and a sincere interest in older adults or persons experiencing frailty due to age, chronic illness or sensory loss.
National Medal of Science
President Barack Obama recently presented the National Medal of Science to University of Delaware alumnus Rakesh Jain.
Warren Award
Rosalind Johnson, assistant dean for student success in the NUCLEUS Program in UD's College of Arts and Sciences, was presented the John Warren Excellence in Leadership and Service Award during a May 26 ceremony.
Buxbaum Scholars have an opportunity to work as research assistants with Veronica Rempusheski, Jeanne K. Buxbaum Chair of Nursing Science, to broaden their research and community engagement awareness of aging and receive hands-on experience in proposed and funded projects and aging-in-place activities with older adults.
Ann Marie Gamble, a full-time graduate student living in Wilmington, Del., was awarded the Buxbaum Scholarship in spring 2013. Her experience as a registered nurse at the Johns Hopkins Hospital Medical Intensive Care Unit and a member of the end-of-life committee provided her the opportunity to work with older adults and chronically ill patients. It was there that she realized her passion for helping older adults and counseling family members in making decisions related to elder care.
Having grandparents who could no longer manage in their own home, one of whom was diagnosed with Alzheimer's disease, Gamble and her family assumed responsibility for managing the health care, living arrangements and changing lifestyle of her oldest relatives. Through her studies at UD, Gamble plans to develop a better understanding of Alzheimer's disease and the family dynamics of persons affected by debilitating diseases.
Gamble is enrolled in the master of science in nursing (MSN) degree program in the adult-gerontological nurse practitioner (AGNP) track. Upon graduation in May 2014 her professional goal is to practice as an AGNP to promote health, quality of life, personal independence and safety in the aging population.
"Ann Marie fully utilizes her intellectual skills and sensitivity to the needs of older adults in research and community engagement activities, from her attention to detail in handling data entry to a high degree of patience in helping older adults manage their daily lives," says Rempusheski.
Rachael Cooper is a sophomore honors student from Pittsburgh, Pa., who has earned Dean's List honors during her first two semesters at UD. Influenced by a parent's struggle with a progressive hearing loss, she witnessed the emotional and mental challenges associated with a disability, from which she developed a compassion for persons with sensory deprivation. She felt compelled to reach out to older adults in her community as soon as and as often as she could.  
Cooper has played piano for 13 years; therefore, music has become one vehicle for her to interact with and learn from older adults. In high school she shared music and conversation with older adults in nursing homes and care facilities through a program she created called "Notes4Folks." Those experiences solidified her passion for gerontology and volunteerism.
Cooper continues her work with older adults through Lori's Hands, a volunteer UD student organization that connects college students with people needing services in the community that allow them to age in place. She also works as a resident assistant.
After earning a bachelor of science in nursing (BSN) degree from UD, her plans include work in critical care for a few years, followed by graduate studies. She hopes to become a family nurse practitioner and then pursue a doctoral degree so she can eventually teach and practice with a focus on care of older adults in her community.
Rempusheski notes, "Rachael's organized, systematic approach to all she does illustrates characteristics consistent with a commitment to compassionate care, scholarship and leadership in the nursing profession."
Julia Pohlman from Malvern, Pa., is a sophomore who earned Dean's List honors during her first two semesters at UD. Her decision to pursue a career in nursing came from the personal satisfaction that she received from helping others; however, her interest in gerontology developed only after she had an unexpected family commitment.
As a senior in high school, Pohlman quit her part-time job to help care for her grandmother, who was diagnosed with dementia. Happy to help her family, she visited her grandparents' apartment every day after school. She quickly found herself transitioning from what was initially an obligatory feeling to enjoying the valuable, quality time she spent with her grandmother and the other older adults. 
She developed a deep appreciation for the challenges as well as the rewards of aging, and her passion for gerontology was born. These experiences led her down a path that will define the rest of her life in professional nursing.
Her long-term goal is to continue her education after earning a BSN from UD and work as a nurse in an older adult health care facility. She is excited to be a research assistant in gerontology, collaborating on a proposed community engagement project.
"Julia's eagerness to learn about aging is revealed as she systematically compiles evidence to support strategies for their proposed community engagement project with older adults," says Rempusheski.
Kearstin Raby is a sophomore nursing student from Somerdale, N.J. After witnessing her great-grandmother's struggle with Alzheimer's disease, she developed compassion for older adults experiencing sensory loss. Her interest in gerontology was generated from a desire to reassure older adults of their worth as their hearing or vision diminished and help them to feel as comfortable as possible in dealing with their challenges.
Raby's passion to help others is evident in her work with Lori's Hands, where she assists older adults and persons with chronic illnesses with household chores. Being present for older adults and listening to their stories, she notes, has not only enriched her life but also reinforced her desire to make a difference in the lives of others.
After earning a BSN from UD, Raby plans to pursue graduate studies, become a geriatric nurse practitioner, and use her knowledge and skills as a travel nurse in the care of a diverse population of older adults worldwide.
She is working with Rempusheski and Pohlman on a proposed community engagement project that blends her interest in research, passion for care of older adults with sensory loss, and experience as a volunteer for Lori's hands.
Rempusheski says, "Kearstin's enthusiasm and energy are palpable as she diligently and conscientiously assumes the tasks associated with the proposed project."
Gamble, Cooper, Pohlman and Raby join continuing Buxbaum Scholars Danielle Jacoby, Kelly Leedy, Rita-Rae Schaeffer and Delaney White.
Photo by Evan Krape