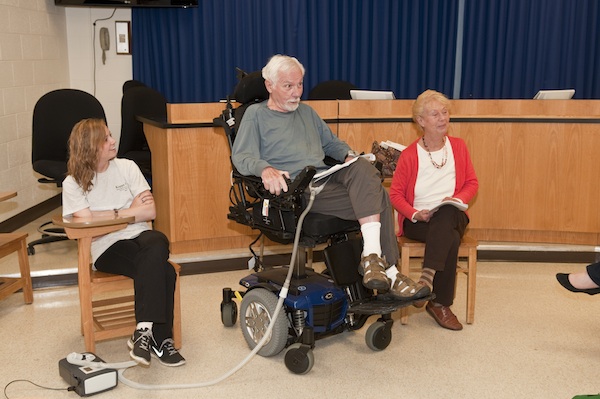 Oct. 8: ALS topic
Retired professor to share experiences living with Lou Gehrig's Disease
10:23 a.m., Oct. 3, 2013--Ron Wenger, a retired University of Delaware mathematics professor who has amyotrophic lateral sclerosis (ALS), will speak at the Student Nurses Organization meeting at 6 p.m., Tuesday, Oct. 8, in 130 Sharp Laboratory.
Wenger will provide insights into how ALS, commonly known as Lou Gehrig's Disease, has affected him not only medically but also personally, emotionally, socially, and intellectually.
June 5: Blue Hen 5K
University of Delaware graduates planning to attend Alumni Weekend are encouraged to register for the annual Blue Hen 5K walk and run, which will be held Sunday morning, June 5.
June 6-9: Food and culture series
The 20th annual June Lecture Series at the Osher Lifelong Learning Institute at UD in Wilmington will be held June 6-9. Titled 'June a la Carte,' this year's program focuses on great political documents, feminism, world politics and a Newark cuisine sampler.
ALS is a progressive neurodegenerative disease that affects nerve cells in the brain and the spinal cord, beginning with motor weakness and gradually resulting in paralysis. Last spring, Wenger spoke to a small group of students in UD's HLTH267 class, Chronic Illness in America: From Policy to Person.
"I think it's very important for us as future health care providers to have a better understanding of the person behind the disease," says nursing student Rachael Green, who organized the talk as part of her capstone project for the course. 
"I hope that all students planning a career in health sciences will join us for a unique opportunity to learn more about ALS and get a deeper understanding of the emotional repercussions of a difficult diagnosis."
Photo by Doug Baker