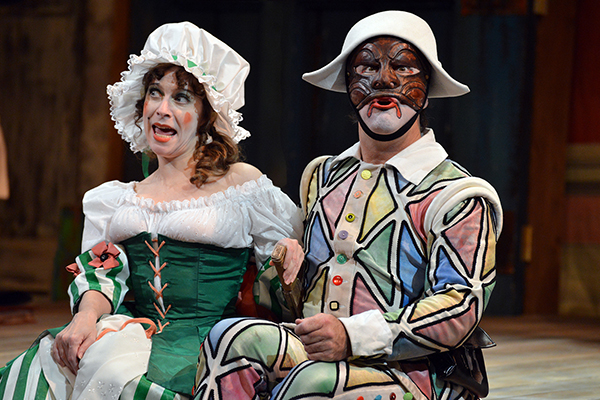 Nov. 14-Dec. 8: 'Servant of Two Masters'
Resident Ensemble Players to stage 'The Servant of Two Masters'
9:40 a.m., Nov. 13, 2013--Slapstick will soar and meatballs will fly when the University of Delaware's Resident Ensemble Players (REP) presents the Italian comedy The Servant of Two Masters by Carlo Goldoni from Nov. 14 through Dec. 8 in the Roselle Center for the Arts.
Lovers, lawyers, servants, and skinflints run amuck in this madcap classic Commedia dell'arte farce.
June 5: Blue Hen 5K
University of Delaware graduates planning to attend Alumni Weekend are encouraged to register for the annual Blue Hen 5K walk and run, which will be held Sunday morning, June 5.
June 6-9: Food and culture series
The 20th annual June Lecture Series at the Osher Lifelong Learning Institute at UD in Wilmington will be held June 6-9. Titled 'June a la Carte,' this year's program focuses on great political documents, feminism, world politics and a Newark cuisine sampler.
Lee Ernst, the newest REP company member, plays the servant character of Truffaldino. "Commedia dell'arte has been around since the 16th century and it's influenced a number of art forms from theatre to standup comedians," says Ernst. "The rhythms, joke setups, and the physical humor will be very familiar to audience members.
"And it's a wonderfully playful piece. The company gets to do a little improvisation during the performance, so while the audience is having a great time in their seats, we're all have a grand old romp on the stage."
Truffaldino is the center of the play's mirth as he concocts a zany scheme to both double his wages and his meals by being the servant to two masters, each unaware of the other.
Throw in a betrothed couple confronted with a back-from-the-dead fiancé, a hot-to-trot maid with her eye on the new servant and a bawdy band of meddling characters and the recipe for fun is set.
Performances run from Saturday, Nov. 14, through Sunday, Dec. 8, with preview performances on Nov. 14 and 15. Tickets are $22- $28, with discounts for students, seniors and UD faculty and staff.
Tickets can be purchased by calling the REP box office at 302-831-2204 or in person at the Roselle Center for the Arts, 110 Orchard Rd., Newark, Monday through Friday from noon until 5 p.m.
The performance schedule for The Servant of Two Masters is as follows: Nov. 14, 15, 16, 21, 22, 23 and Dec. 5, 6, and 7 at 7:30 p.m.; and Nov. 17, 23, 24, and Dec. 7 and 8 at 2 p.m.
New this year on the second and third Friday performance of each production is "Roundup with the REP." After the Friday performances on Nov. 22 and Dec. 6, the REP invites the audience to join the acting company in the lobby for a cash bar, snacks, and great conversation.
The REP also presents a pre-show discussion beginning at 1:15 p.m. on Saturday, Nov. 23. This "REP Prologue" is a free and informal 20-minute presentation about the production designed to enhance patrons' enjoyment and understanding of what they are about to experience.
A talk-back in the theatre with the cast will take place following the evening performance on Thursday, Nov. 21.
The Roselle Center for the Arts is located at 110 Orchard Road, on the corner of Orchard Road and Kent Way. A convenient parking garage is attached to the center.
A complete schedule, directions, and information on purchasing tickets can be found at the REP's website or by calling the REP's box office at 302-831-2204.
About the director, Paolo Emilio Landi
Paolo Emilio Landi is an international theatre director -- more than 50 plays in Italy, the U.S., Russia, France, Germany, Lithuania, and Latvia --and a TV journalist, presenter and documentarist with National Italian State Television (RAIDUE).
He graduated with a degree in American literature from Rome University with a dissertation on Tennessee Williams. 
Based in Rome, Landi spends most of his time traveling the world filming or directing plays in the local language. His career in the Russian theatre led his Filumena Marturano (by Eduardo de Filippo, also known as Wedding Italian Style) to win the Russian Theatre Oscar.
He taught commedia dell'arte style, documentary filmmaking and Italian Cinema for several semesters at University of Richmond (Va.).
He has staged many comedies (Moliere, Goldoni, Gozzi, Scarpetta, De Filippo, Frayn, Collard, Ionesco), musicals (The Full Monty, They Shoot Horses, Don't They?) and dramas (Williams, Pirandello, Yourcenar).
Also, he is a translator and adapter of numerous plays, and speaks fluently Italian, English, Russian and French.
About the REP
The Resident Ensemble Players (REP), established in 2008 and located at UD, is a professional theatre company whose mission is to engage audiences throughout the tri-state area with frequent, outstanding productions of a variety of classic, modern, and contemporary plays performed in a wide variety of styles that celebrate and demonstrate the range, breadth, and ability to transform a full-time ensemble of nationally respected stage actors who have been trained in the same way.
The REP is committed to creating future audiences for live theatre by offering its productions at very low prices that enable and encourage the attendance of everyone in the region regardless of income.
Photo by Nadine Howatt