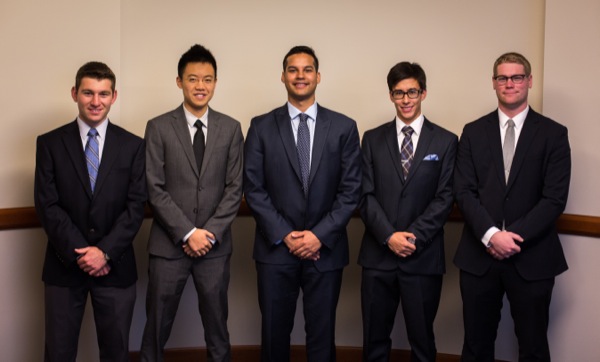 Lerner to nationals
Lerner College student team advances to PwC tax competition national finals
2:27 p.m., Nov. 25, 2013--Five University of Delaware students who participated in the PricewaterhouseCoopers (PwC) Challenge 2013, an annual national tax case competition, have been selected as finalists by a panel of judges from the "Big 4" accounting firm to advance to the national finals early next year.
The team of William Cobb, Phillip Flesch, Robert Gorecki, David Sang and Nathaniel Taylor was selected from among 27 teams entered by the Alfred Lerner College of Business and Economics and 89 business schools nationally based on a recorded presentation. They will travel to Washington, D.C., in January to participate in the national championships.
National Medal of Science
President Barack Obama recently presented the National Medal of Science to University of Delaware alumnus Rakesh Jain.
Warren Award
Rosalind Johnson, assistant dean for student success in the NUCLEUS Program in UD's College of Arts and Sciences, was presented the John Warren Excellence in Leadership and Service Award during a May 26 ceremony.
Noted a contact from PwC, "We were extremely impressed with not only the content but also the quality of the campus winning presentations. Our national review committee indicated that this year's solutions were very creative, well supported through research and overall very well done. The students have continued to raise the bar for future competitions and should all be proud of the effort they put forth as well as the overall teamwork demonstrated."
"The faculty are very proud of our students' accomplishments and grateful to PwC for providing meaningful learning opportunities," said Scott Jones, chair of the Department of Accounting and MIS.
The student team, named "GTS Consulting" with a nod to some of the students' status as "senior" partners of the team, began competing in cases last spring, including the Target Case Competition, the Deloitte Federal Technology Case Competition and the IIA Philadelphia Regional Case Competition. They took home first place in all three competitions.
"We had a lot of fun with it and brought in almost $4,000 in prize money," said Sang, an accounting and finance double major and Honors Program student, of the team's active participation in competitions. "But while winning all these cases was great, we really wanted to test our limits."
"When we heard that the PwC competition went to a national level, we were all for it," said Gorecki, an Honors Program student who is majoring in economics and finance. "We added two high-performing students we knew very well [Cobb and Flesch] and started prepping for the case."
Team GTS explained that for the PwC competition, they played the role of consultant to a fictional Northeast state government that faced a plummeting fuel tax revenue stream.
"With a decrease of over 75 percent in revenue due to increased fuel efficiency and the adoption of hybrids and EVs, the government didn't have funds to maintain transportation infrastructure and recently a major bridge had collapsed," said Taylor, a double major in economics and finance and Honors Program student, of the case. "Our job was to come up with a solution to address the lost tax revenue and current infrastructure problems, under a variety of other considerations and constraints."
"We definitely applied our Lerner experience to help us," said Cobb, a sophomore who is a triple major in economics, finance and management information systems. "For example, part of our solution involved a municipal revenue bond offering of which we were familiar of the intricacies through our finance coursework."
Added Flesch, a sophomore double majoring in economics and finance, "The team overall is a group of extremely hard-working and dedicated Lerner undergrads. Most of us hold senior positions in the Blue Hen Investment Club. We are knowledgeable in the ways we create comprehensive solutions and are familiar with what a typical management team would like covered."
Sang also said the team's past experience was quite helpful in the actual presentation. "We are all very experienced public speakers and equally experienced in building effective presentation slide decks."
The team is currently working out logistics involving the national competition.
"We look forward to preparing for the competition and representing UD at the national finals in January," said Sang.
Article by Kathryn Meier
Photo courtesy of PricewaterhouseCoopers