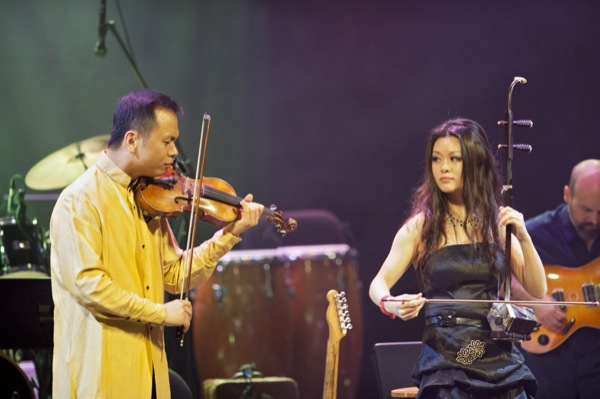 Nov. 18: 6ixwire concert
Concert by 6ixwire Project to open International Education Week
9 a.m., Nov. 1, 2013--International Education Week activities at the University of Delaware will begin Monday, Nov. 18, and will feature a concert by the world class crossover ensemble 6ixwire Project from 7:30-9 p.m. in Mitchell Hall.
The concert is sponsored by the Institute for Global Studies (IGS), Office for International Student and Scholars (OISS), Residence Life and Housing, and the English Language Institute (ELI) in collaboration with the Master Players Concert Series (MPCS). 
June 5: Blue Hen 5K
University of Delaware graduates planning to attend Alumni Weekend are encouraged to register for the annual Blue Hen 5K walk and run, which will be held Sunday morning, June 5.
June 6-9: Food and culture series
The 20th annual June Lecture Series at the Osher Lifelong Learning Institute at UD in Wilmington will be held June 6-9. Titled 'June a la Carte,' this year's program focuses on great political documents, feminism, world politics and a Newark cuisine sampler.
The performance by 6ixwire Project will provide listeners an Eastern-Western violin crossover featuring producing artistic director and violinist Xiang Gao, international erhu (Chinese violin) and zheng (Chinese zither) virtuoso Cathy Y. Yang, and guest artists Mathew Brower, collaborative pianist, and Liqun Lie, Chinese dulcimer performer.
International Education Week is a celebration of culture through music, dance, musical theatre showcase, fashion, film, lectures, food, and more, and will take place Nov. 18-22. It is an opportunity to celebrate the benefits of international education and exchanges.
Organizers have said they the week will promote a global environment across UD's campus and attract students to learn, study and exchange global experiences though UD's theme, "Going Global."
International Education Week across the country is a joint initiative of the U.S. Department of State and the U.S. Department of Education.
Ticket information
Tickets for students with an ID cost $5, and can be purchased at the Trabant University Center and Bob Carpenter Center box offices. General admission tickets for the community, faculty and staff cost $25 and can be purchased at the box office or on Ticketmaster. If the performance is not sold out, tickets will be available at the door starting at 6:30 at the same cost. As 6ixwire concerts were sold out twice last year and the seats are limited, purchasing tickets in advance is recommended. Mitchell Hall is located at the corner of College and Amstel in Newark.
About the artists
Recognized as one of the world's most successful performing artists of his generation from the People's Republic of China, The New York Times cites Xiang Gao as "a rare and soulful virtuoso." His musical integrity and virtuoso technique have gained accolades from audiences and reviewers around the world. Xiang Gao is the founding director of China Music Foundation and UD's Master Players Concert Series.
As the first Chinese violinist to be named an endowed professorship in the U.S.-Trustees Distinguished Professor of Music at the University of Delaware, he is also the ZiJiang Professor of Music at the East China Normal University in Shanghai.
In 2007, the Stradivari Society in Chicago selected Gao to be a recipient of a world famous Stradivarius violin for his international solo concerts.
The internationally acclaimed erhu virtuoso Cathy Yang is also a guzheng (Chinese zither) soloist, and a former professor of music at the China Contemporary Cultural Academy. As an international concert soloist based in the U.S., Yang has performed as a soloist at Lincoln Center and the Kennedy Center among other major concert halls in the U.S.
The Chinese government has chosen Yang many times as a cultural ambassador to perform in Vienna, Frankfurt, Munich, Los Angeles and other cities. In May 2008, while visiting the U.S., Yang performed as a soloist before thousands of New York Met fans. Yang was also a featured soloist during the 2008 Spoleto Music Festival (Charleston, South Carolina). 
Among the prestigious awards Yang has received in China are top prizes at the Long Yin Instrumental Competition, the Tian Hua erhu competition, the Chinese Ministry of Culture Annual Music Competition, and the Chinese National Cultural Foundation award.
Starting in November, as invited by UD, Yang will join the faculty at the UD Community Music School (CMS) to offer erhu and guzheng private lessons to cross-generational students and establish a Chinese ensemble.
Liqun Li, a yangqin (hammered dulcimer) soloist who is a member of the National Orchestra of China. She graduated with honor from the Central Conservatory of Music in Beijing.
Currently Li is the honored Overseas Board Member of the Chinese Professional YangQin Committee. She is also a music lecturer at New York University and California Youth Chinese Symphony. She is a member of the Music Teachers National Association. 
Li has performed in many countries, including Europe, Asia and North America. She has also been invited to give lectures and workshops in numerous places in the world.
Since Li came to the United States, she has been performing at Smithsonian Museum (Freer Gallery), Lincoln Center, Carnegie Hall, Kennedy Center, Yale University, George Washington University, New York University, Columbia University, Harvard University, Connecticut University and Stanford University, gaining high recognition from all audiences and institutions. 
Matthew Brower works as the chorus pianist for Opera Philadelphia and on the staff at Westminster Choir College in Princeton, N.J. Brower received his doctor of musical arts degree in May from the University of Michigan, where he studied collaborative piano under the tutelage of renowned pianist Martin Katz. 
While at Michigan, Brower coached vocal performance majors, chamber music ensembles, and university opera productions. In addition, he taught accompanying lessons to piano performance majors and performed in numerous instrumental and vocal recitals. 
He earned a master of music degree in collaborative piano from the University of Michigan in 2010 and a bachelor of music degree in piano performance from the Oberlin Conservatory of Music in 2008, where he was awarded the Oberlin Piano Faculty Prize in Accompanying. 
At age 11, Brower made his New York City debut, performing an original composition at Weill Recital Hall of Carnegie Hall. He has since performed in such prestigious venues as Alice Tully Hall of Lincoln Center and Steinway Hall, as well as internationally, in Italy, Germany, France, Switzerland, and Austria. A New Jersey native, he has played jazz piano at local restaurants as a soloist and with his quartet, The Salt Peanuts. 
For more information about 6ixwire visit the website and YouTube channel.
Visit the MPCS website the Facebook page for more information about concerts and activities.