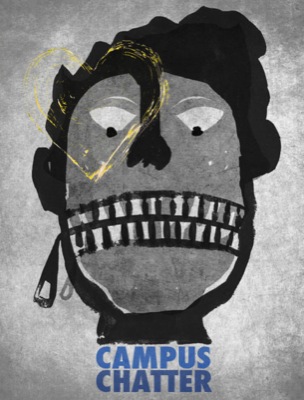 Nov. 19: 'Campus Chatter' showcase
Selections from new 'revue-sical' about college life to be presented
9:04 a.m., Nov. 1, 2013--A showcase of selected songs and sketches from Campus Chatter, a new musical, will be presented from 5-6 p.m., Tuesday, Nov. 19, in Bayard Sharp Hall on the University of Delaware campus in Newark.
The showcase will be presented by the International Education Week Committee and the UD Master Players Concert Series.
June 5: Blue Hen 5K
University of Delaware graduates planning to attend Alumni Weekend are encouraged to register for the annual Blue Hen 5K walk and run, which will be held Sunday morning, June 5.
June 6-9: Food and culture series
The 20th annual June Lecture Series at the Osher Lifelong Learning Institute at UD in Wilmington will be held June 6-9. Titled 'June a la Carte,' this year's program focuses on great political documents, feminism, world politics and a Newark cuisine sampler.
A post-performance discussion will be led by composer and producer Xiang Gao and lyricist Joyce Hill Stoner, both UD faculty members, on creating a "revue-sical" about challenges of college life in the 21st century. 
This is the first of three Campus Chatter workshops to be held during the current academic year at Bayard Sharp Hall, at the corner of South Main Street and Delaware Avenue.
Nineteen talented UD student singers and actors selected from an open and campus-wide audition, as well as the student a cappella group the MelUDees, will be featured during the three workshops.
The showcase is free to the public, however a reservation is required. Those who plan to attend are asked to fill out the online RSVP form. The event is first-come, first-served. Bayard Sharp Hall seats only 100, and 50 seats are already sold. 
The final production of Campus Chatter will open as part of the 2014-15 Master Players Concert Series season finale in April 2015. 
Commissioned by the UD Master Players Concert Series, Xiang Gao, Trustees Distinguished Professor of Music, and Joyce Hill Stoner, Edward F. and Elizabeth Goodman Rosenberg Professor of Art Conservation and author of more than two dozen musicals, have collaborated with Broadway veteran and playwright Larry Raiken to create a theatre piece that the authors hope will be entertaining, true-to-life, and inspirational to anyone connected to a university in the U.S.
Gao and Stoner, who have collaborated previously on a musical version of the Chinese folk tale The Magic Paintbrush decided to create a piece in response to some of the serious issues of violence and exclusion on college campuses currently in the news. 
Based on non-fictional experiences, with names changed and situations altered, the show projects a humorous spin, an edgy conscience, and the hope that today's college students will be inspired to bring about needed changes. By the final number, the cast and the audience should be inspired to become "courageous bystanders" who will stand up for the bullied and will combat unfair behavior.
Songs and sketches were based on dozens of interviews carried out by a team of UD students and Stoner, carefully following UD Institutional Review Board (IRB) research interview guidelines.
The interview team was headed by Emily Bonistall, doctoral student in sociology and 2011-12 president of the UD Graduate Student Government. Students from various backgrounds volunteered for interviews with a special emphasis on international and racially diverse students.
The interviewees were asked about their challenging life experiences in high school and college, and fascinating anecdotes emerged.
The "revue-sical" itself features actors portraying college-age students sharing their actual lives; no professors or other adults appear in the production.
Thirteen songs and 12 sketches bring to life short dramatic or musical illustrations of themes of current-day campus problems including: bullying, exclusion, racism, sexism, drinking, drugs, campus violence, use of confusing or hurtful language, and other issues.
Audience members at the showcase will be encouraged to participate in a discussion about how these sketches and songs can be utilized for future educational purposes on our campus to follow the footsteps of the University Healthcare Theatre Program with Amy Cowperthwait and Allan Carlsen.
Student performers (note that not all will be featured soloists in every workshop):
The MelUDees, Amanda Abrom, Kristina Biddle, Jamila Blake, Victoria Rose Brown, Alessandra Ceretto, Alexandra Cohl, Derek Cox, Jackie DeMaio, Katie Dodds, Alex Fang, Catherine (Capps) Juliano, Bradley Michalakis, Pernilla Lauren Mpasi, Carl Pariso, Neil Redfield, Aparna Sharma, Nicalia ThompSon, Laura Velarides, Andrew Widger, and Natalie Wilson.
Organizers have thanked the Delaware Division of the Arts, UD Office of the Vice President for Student Life, UD Interdisciplinary Humanities Research Center, UD Student Wellness and Health Promotion, Office of the Senior Associate Director for the University Student Centers, UD Office of Equity and Inclusion, UD Department of Art Conservation, UD Office for International Students and Scholars and UD Graduate Student Government.