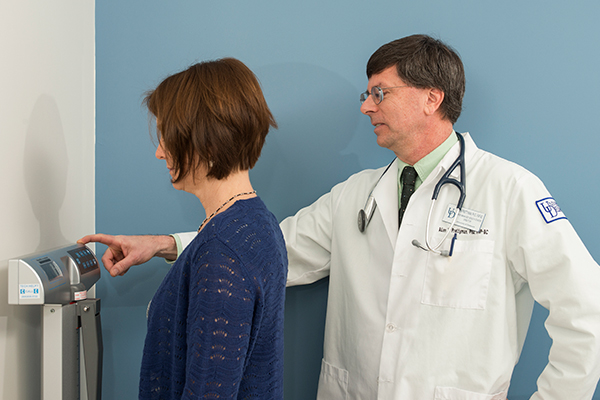 Nursing excellence
UD's Allen Prettyman recognized as nurse practitioner advocate
10:29 a.m., May 8, 2014--Allen Prettyman, assistant professor in the School of Nursing at the University of Delaware, has been selected to receive the 2014 State Award for Nurse Practitioner Advocate from the American Association of Nurse Practitioners (AANP). 
Prettyman and the other winners will be honored at an awards ceremony and reception held during the AANP 2014 National Conference from June 17-22 in Nashville, Tennessee.
National Medal of Science
President Barack Obama recently presented the National Medal of Science to University of Delaware alumnus Rakesh Jain.
Warren Award
Rosalind Johnson, assistant dean for student success in the NUCLEUS Program in UD's College of Arts and Sciences, was presented the John Warren Excellence in Leadership and Service Award during a May 26 ceremony.
The State Award for Nurse Practitioner Excellence, founded in 1991, recognizes nurse practitioners who demonstrate excellence in practice. In 1993, the State Award for Nurse Practitioner Advocate was added to recognize the efforts of individuals who have made a significant contribution toward increasing the awareness and acceptance of the nurse practitioner.
"Allen has championed the role of the nurse practitioner (NP) by promoting the highest standards among his NP students, faculty and NP colleagues," says Kathy Schell, director of the UD School of Nursing. "He chairs the Advanced Practice Nurse (APRN) Council of the Delaware Nurses Association, a group of NPs, clinical nurse specialists, certified nurse anesthetists and midwives who represent the interests of APRNs in Delaware and advocate for nurses practicing to the full extent of their education and training."
Prettyman is director of UD's Nurse Managed Health Center, and he co-directs The Parkinson's Clinic with Ingrid Pretzer-Aboff, associate professor of nursing. 
He was instrumental in launching the NMHC in 2010, and Schell credits him with not only working diligently to set up the physical environment but also developing the affiliations and partnerships needed to promote success.
"By removing barriers to practice, we can increase access to care, improve quality and patient outcomes, and reduce health care costs," Schell says. "Allen and his NMHC team operationalize an NP-led primary care model, which includes an interdisciplinary team of health care experts."
Prettyman was also recently selected as a Duke–Johnson & Johnson Nurse Leadership Fellow, a one-year, part-time program that develops advanced practice nurses as leaders in a clinical setting.
After earning bachelor's and master's degrees in nursing science from Wilmington University, Prettyman completed his Ph.D. at UD in human development and family studies. He has been a family nurse practitioner since 1995.
Article by Diane Kukich
Photo by Kathy F. Atkinson