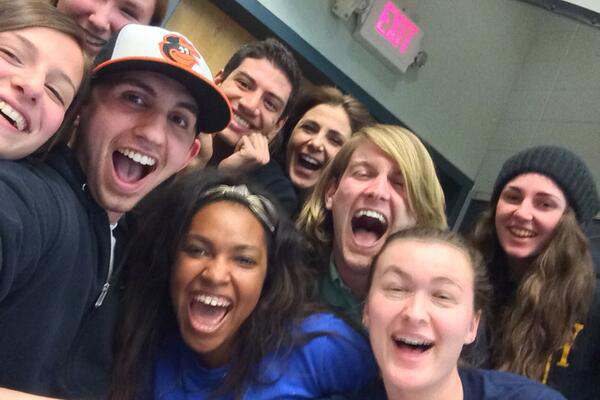 May 12: Giggle On The Green
Mental health advocate to offer Giggle On The Green event at UD
9:35 a.m., May 7, 2014--Christa Scalies, founder of Giggle On and well-known mental health and suicide prevention advocate, will lead a fun and playful interactive stress-reduction laughter session, "Giggle On The Green," for University of Delaware students, faculty and staff from 1:10-1:25 p.m., Monday, May 12.
The event on the Central Green, which will mark finals week and Mental Health Month, is sponsored by Alpha Phi Omega (APO) Zeta Sigma Chapter with additional cooperation from Healthy Hens and Active Minds UD.
June 5: Blue Hen 5K
University of Delaware graduates planning to attend Alumni Weekend are encouraged to register for the annual Blue Hen 5K walk and run, which will be held Sunday morning, June 5.
June 6-9: Food and culture series
The 20th annual June Lecture Series at the Osher Lifelong Learning Institute at UD in Wilmington will be held June 6-9. Titled 'June a la Carte,' this year's program focuses on great political documents, feminism, world politics and a Newark cuisine sampler.
Leveraging her expertise as a motivational speaker, laughter coach, fitness instructor and mental health advocate, Scalies will conduct a 15-minute laughter session to help participants reduce stress, boost endorphins, stimulate deep breathing, and boost their immune systems.
Using various laughter-based, lung-strengthening and muscle-stretching exercises developed specifically for UD, Scalies will motivate and teach people how to laugh unconditionally in order to improve their mental, physical and emotional health. 
"Laughter is one of nature's greatest counters to stress," said Scalies. "Not only is hearty belly laughter fun, it is a holistic and playful way for people of all ages, ability levels and backgrounds to enhance intake of oxygen-rich air, stimulate circulation, ease pain, connect with other people and lessen the symptoms of anxiety and depression."
With the help of APO, Active Minds and Healthy Hens, Scalies said she intends to invigorate participants using structured, energetic and interactive exercises that incorporate laughter with controlled diaphragmatic deep breathing, clapping and stretching. 
She will also have fun and educational give-aways to remind people to "Keep Calm and Giggle On." Representatives from Healthy Hens and Active Minds will be on hand to distribute educational and wellness materials to students.
Scalies recently led stress reduction and laughter sessions for APO Zeta Sigma and the Resident Student Association.
Kyle Husni, Resident Student Association treasurer, said, "Christa spoke with a group of 50-plus students during our midterm week to discuss different ways to handle stress the right way. Not only did every student leave laughing, but they left with something they will take with them for the rest of their life."
Victoria Arthur, vice president of service for Alpha Phi Omega, reported feeling, "proud, impressed and invigorated" after Scalies' laughter presentation last fall. "I think colleges need someone like you," she said. "Your message was so simple that I think it really struck an unexpected chord. People are still talking about it in a positive light."
Recognizing the seriousness of anxiety, stress and mental health for college students, one of Scalies' goals is to help educate people about mental illness and erase stigma surrounding mental illness. "I haven't always been chipper and giggly. I know what it's like to be depressed, suicidal and in the depths of grief after losing loved ones to suicide." Scalies said. "While recovering from those losses and challenges I found laughter, exercise and healthy living to be one of the best ways to improve my mood and live a happier life. In fact, my personal mantra, 'Don't Give Up, Giggle On,' was born from my efforts to cope with friends' suicides."