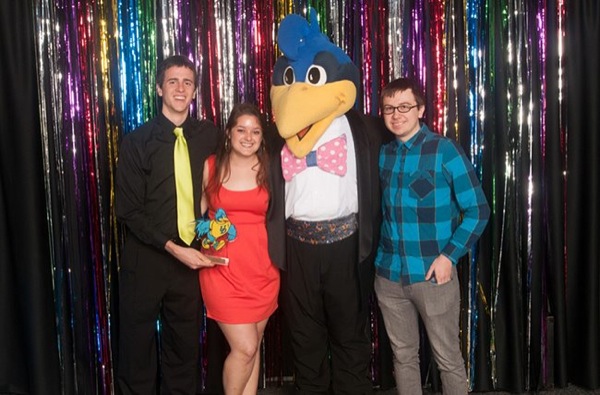 May 10: CAGDstravaganza
CAGDstravaganza returns as semiformal event for gamers, coders
1:38 p.m., May 1, 2014--CAGDstravaganza, a cooperative gaming and tech-focused celebration, will be held from 5-11 p.m., Saturday, May 10, in the West Lounge of the University of Delaware's Perkins Student Center.
The free semiformal event, presented by a group of six UD student organizations, will celebrate "the talent of gamers, coders and other robots at UD," a CAGDstravaganza representative said.
June 5: Blue Hen 5K
University of Delaware graduates planning to attend Alumni Weekend are encouraged to register for the annual Blue Hen 5K walk and run, which will be held Sunday morning, June 5.
June 6-9: Food and culture series
The 20th annual June Lecture Series at the Osher Lifelong Learning Institute at UD in Wilmington will be held June 6-9. Titled 'June a la Carte,' this year's program focuses on great political documents, feminism, world politics and a Newark cuisine sampler.
At CAGDstravaganza, students, professors and community members can network and relax with those who share computer science, tech or gaming passions. 
Attendees will compete at open gaming stations with well-loved games like Super Smash Bros Project M and Soul Caliber II, be able to watch a live League of Legends tournament and see students showcase their game, animation or QWOP-playing bot projects.
"It's different from any event you've experienced here at UD," says Ryan O'Dowd, Computer Animation and Game Design (CAGD) president, "because half the RSOs running the event didn't even exist until a few years ago." 
Genshiken, the original and casual gaming student organization on campus, was founded in the fall of 2004, but the catalyst for this event was the CAGD club, founded by O'Dowd in 2010. 
CAGD reached out to Genshiken, the Association of Computing Machinery (ACM), the Linux Users' Group (LUG), and, youngest to the UD tech community as of this past year, the Video Game Tournament Club (VGTC) and the 8-bit Orchestra. 
The tech community at UD has been flying under the radar, an event representative said, but CAGDstravaganza focuses on atmosphere and its audience with special lighting; Boom GetLoud, a successful local DJ team; live orchestra music; and light refreshments. 
According to the Entertainment Software Rating Board's Video Game Industry Statistics, the typical U.S. gamer is 18-49 years old, has been playing computer or video games for about 12 years, and is represented in about 67 percent of American households. Forty percent of all gamers are female. 
The Bureau of Labor Statistics reports that job growth for computer science is at 15 percent, faster than the average, and Forbes reports in a 2014 article that it is also one of the top five desirable academic disciplines for hiring. 
Students interested in going up for gold, silver or bronze medals at the showcase can email Meredith Greer, CAGD event coordinator, at mgreer@udel.edu for a showcase application. Applications are due at 5 p.m., Sunday, May 4. Those interested in registering for the League of Legends ARAM tournament can do so using this form. All others may simply arrive in semiformal style.
For a CAGDstravaganza poster in PDF format, click here.