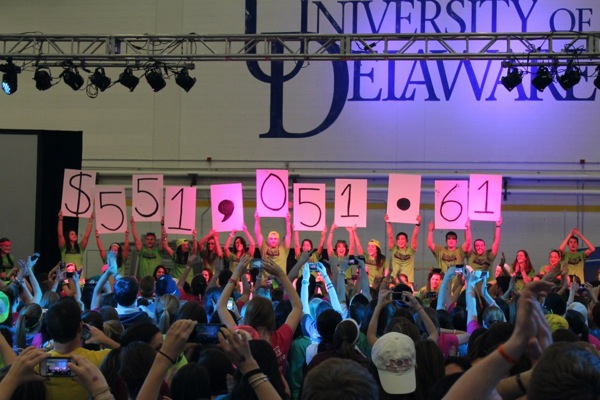 March 23: UDance 2014
Campus organizers making preparations for UDance at The Bob
8:16 a.m., March 7, 2014--UDance, the largest student-run philanthropy on campus, will hold its signature annual fund raising event from 9 a.m.-9 p.m., Sunday, March 23, at the Bob Carpenter Center.
Members of the campus community are invited to attend the event, which will raise money for the Andrew McDonough B+ Foundation through the 12-hour dance marathon. On hand will be B+ Heroes, children who are fighting cancer. 
June 5: Blue Hen 5K
University of Delaware graduates planning to attend Alumni Weekend are encouraged to register for the annual Blue Hen 5K walk and run, which will be held Sunday morning, June 5.
June 6-9: Food and culture series
The 20th annual June Lecture Series at the Osher Lifelong Learning Institute at UD in Wilmington will be held June 6-9. Titled 'June a la Carte,' this year's program focuses on great political documents, feminism, world politics and a Newark cuisine sampler.
Buses will be available all day going to and from The Bob. Entrance is $5.
UDance completes a full year of preparations following the 2013 event, which ended when members of the campus community raised cards that read "$551,051 For Our Heroes."
"To many, that is just an abstract number made with some paper and a Sharpie. To others, that number changes lives," a UDance representative said. "That number goes directly to families of kids with cancer because parents don't deserve to hear 'Your child has cancer.'"
Just 24 hours after they raised that number on March 10, members of the organization's executive board began preparations for UDance 2014. 
Nearly 12 months have passed since that day, and in that time UDance has made a big splash on campus. The student philanthropy has had more events than ever before, which include fall and spring retreats, a tweeting spree that resulted in #UDance2014 trending, FTKickoff, the Rave Run, FTK Tuesdays at local restaurants, a '90s-themed flash mob on The Green, the holiday party with B+ Heroes, the Greatest of the Greeks, Race to Raise, off-campus canning, the Masquerave featuring Kap Slap, the B+/UDance 87ers game, and the Hero Hoops basketball tournament. 
UDance also won the Jefferson Award for Public Service in October.