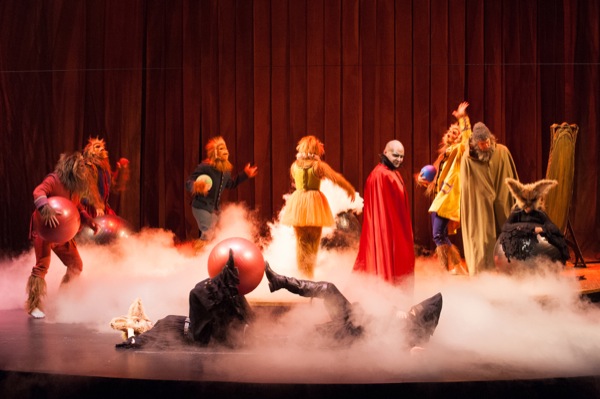 Through March 23: REP presents 'Faust'
Resident Ensemble Players stage 'Faust' at Roselle Center for the Arts
8:09 a.m., March 11, 2014--Monkeys, witches and the devil himself take the stage when the Resident Ensemble Players (REP) brings German playwright Johann Wolfgang von Goethe's epic poem Faust to life through March 23 in the Thompson Theatre of the University of Delaware's Roselle Center for the Arts.
Tickets are $22- $28, with discounts for students and seniors, and can be purchased online, by phone at 302-831-2204, or in person at the Roselle Center for the Arts, 110 Orchard Rd., Newark, Monday through Friday from noon until 5 p.m.
June 5: Blue Hen 5K
University of Delaware graduates planning to attend Alumni Weekend are encouraged to register for the annual Blue Hen 5K walk and run, which will be held Sunday morning, June 5.
June 6-9: Food and culture series
The 20th annual June Lecture Series at the Osher Lifelong Learning Institute at UD in Wilmington will be held June 6-9. Titled 'June a la Carte,' this year's program focuses on great political documents, feminism, world politics and a Newark cuisine sampler.
Adapted and staged by German director Heinz-Uwe Haus, Faust is an episodic drama of ideas regarding the nature of heaven and hell and the personal experience of salvation or damnation that results from each individual's search for meaning.
Haus, a renowned director and interpreter of Bertolt Brecht, brings a European sensibility of alienation, detachment, and symbolic staging to Goethe's poem.
Faust is a story of wagers and bets. Mephisto, the devil, makes a wager with God that he can turn Faust to the dark side by tempting him with emotional and sensual excess. Faust and the devil strike their own bargain -- if Mephisto can bring Faust true pleasure on earth, on Faust's deathbed his soul goes to the devil.
Once the wager is signed in blood, Mephisto and Faust embark on a hedonistic adventure full of magic, monsters, and a host of devilish delights. There is strong sexual content in the production and is recommended for mature audiences.
The performance schedule for Faust is as follows: March 13, 14, 15, 20, 21 and 22, at 7:30 p.m., and March 15, 16, 22, 23, at 2 p.m.
New this year on the second and third Friday performance of each production is "Roundup with the REP." After the Friday performances on March 14 and 21, the REP invites the audience to join the acting company in the lobby for a cash bar, snacks, and great conversation.
The REP also presents a pre-show discussion beginning at 1:15 p.m. on Saturday, March 15. This "REP Prologue" is a free and informal 20-minute presentation about the production, designed to enhance patrons' enjoyment and understanding of what they are about to experience.
A talk-back in the theatre with the cast will take place following the evening performance on Thursday, March 13.
The Roselle Center for the Arts is located at 110 Orchard Road, on the corner of Orchard Road and Kent Way, in Newark. A convenient parking garage is attached to the center.
A complete schedule, directions, and information on purchasing tickets can be found at the REP's website, or by calling the REP's box office at 302-831-2204.
About the REP
The Resident Ensemble Players (REP) is a professional theatre company located at the University of Delaware whose mission is to engage audiences throughout the tri-state area with frequent productions of outstanding classic, modern, and contemporary plays performed in a wide variety of styles that celebrate and demonstrate the range, breadth, and ability to transform a full-time ensemble of nationally respected stage actors who have been trained in the same way.
The REP is committed to create future audiences for live theatre by offering its productions at low prices that enable and encourage the attendance of everyone in the region, regardless of income.
Photo by Paul Cerro