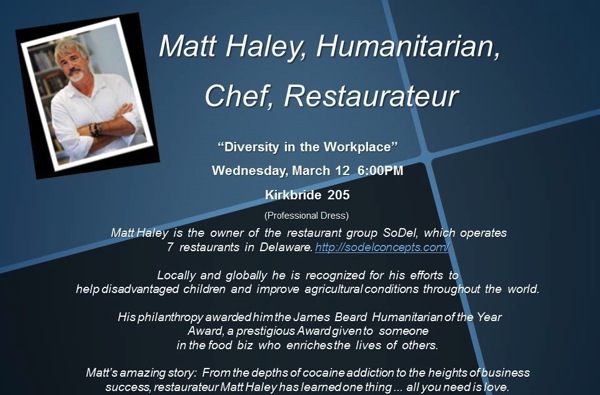 March 12: HR and hospitality
Recipient of 2014 James Beard Humanitarian Award to speak with HRIM students
11:39 a.m., March 12, 2014--Students in the University of Delaware's Department of Hotel, Restaurant and Institutional Management (HRIM) will have the unique opportunity to learn about issues in the workplace from 2014 James Beard Foundation Humanitarian of the Year Matt Haley.
Haley, a Delaware-based chef, restaurateur and global philanthropist, will be on campus Wednesday, March 12, at 6 p.m. in 205 Kirkbride Hall, to deliver a lecture on human resource practices, corporate culture and philanthropy as part of Hospitality Week.
June 5: Blue Hen 5K
University of Delaware graduates planning to attend Alumni Weekend are encouraged to register for the annual Blue Hen 5K walk and run, which will be held Sunday morning, June 5.
June 6-9: Food and culture series
The 20th annual June Lecture Series at the Osher Lifelong Learning Institute at UD in Wilmington will be held June 6-9. Titled 'June a la Carte,' this year's program focuses on great political documents, feminism, world politics and a Newark cuisine sampler.
He is the founder of SoDel Concepts, a restaurant group consisting of Fish On! in Lewes, Bluecoast Seafood Grill in Bethany Beach, NorthEast Seafood Kitchen in Ocean View, Catch54 and Papa Grande's in Fenwick Island, Lupo Di Mare, in Rehoboth, Plate Catering and Matt's Fish Camp in North Bethany. 
Haley is also the recipient of a 2012 Cornerstone Award, given by the Delaware Restaurant Association (DRA) to honor a person for a lifetime of service to the state's restaurant industry.
The lecture is being sponsored by the National Society of Minorities in Hospitality (NSMH), the group that began the Hospitality Week tradition at UD.
Despite receiving accolades for his inspiring goals and global efforts aimed at helping educate disadvantaged children and improving the agricultural conditions in countries around the world, Haley remains down-to-earth.
"I interned for the DRA over Winter Session and one of my tasks involved calling up the members, asking them about their human resources policies and involvement with the association," said Sean Freeman, vice president of the UD chapter of the American Hotel and Lodging Association. 
When Freeman reached Haley, he was impressed by the restaurateur's accessibility.
"When I called him, he was on vacation but still spent 15 minutes talking to me about the culture of his company and why he was able to keep turnover low and employee morale high," said Freeman, who is a double major in HRIM and English. "I was so honored that such a powerful and impressive individual would take time off his vacation to talk to me, a student." 
Haley opened the networking doors for Freeman, who remembered his kindness when the NSMH was planning this week's hospitality events.
"We needed a speaker to come for one of our events and I was so interested in what he had to say about his HR practices and corporate culture that I asked if he would come talk to us about that," said Freeman. 
Haley's response was "enthusiastic" and Freeman said the event will be an avenue for HRIM students to learn about human resources and corporate culture in the hospitality industry as well as Haley's philanthropic efforts.
The dress code for the event is professional attire, and students are asked to arrive early as a full crowd is expected.
Article by Kathryn Meier