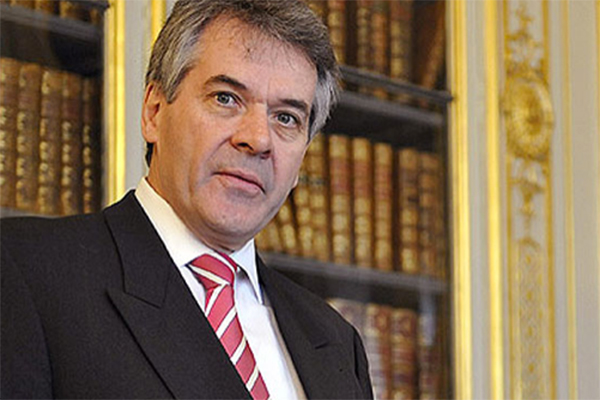 March 25: Global Agenda canceled
Ambassador Westmacott to speak on 'The United Kingdom and Europe'
Editor's note: The visit by British ambassador Peter Westmacott, originally scheduled March 25, has been canceled. (Updated at 10:45 a.m., March 25.)
2:12 p.m., March 18, 2014--Sir Peter Westmacott, British ambassador to the United States, will be the featured speaker as the spring Global Agenda speaker series continues on Tuesday, March 25, at 7:30 p.m. in Mitchell Hall on the University of Delaware campus in Newark.
Westmacott, who became British ambassador to the United States in January 2012, will speak on the topic "The United Kingdom and Europe."
June 5: Blue Hen 5K
University of Delaware graduates planning to attend Alumni Weekend are encouraged to register for the annual Blue Hen 5K walk and run, which will be held Sunday morning, June 5.
June 6-9: Food and culture series
The 20th annual June Lecture Series at the Osher Lifelong Learning Institute at UD in Wilmington will be held June 6-9. Titled 'June a la Carte,' this year's program focuses on great political documents, feminism, world politics and a Newark cuisine sampler.
This is his second placement in Washington, D.C., having previously served on the British Embassy's Counselor for Political and Public Affairs in the mid-1990s.
Through his 40-year career in British diplomatic service, Westmacott has served in postings in Tehran and Brussels, as the Foreign and Commonwealth Office's director for the Americas, and as a member of the board of the Foreign Office as deputy under secretary. 
In addition, he served as deputy private secretary to the Prince of Wales from 1990 to 1993.
Prior to his service as ambassador to the United States, Westmacott served as the British ambassador to France from 2007-11 and as ambassador to Turkey starting in 2002.
Westmacott has personal connections to the U.S. extending back to his father, long before first living in Washington. 
In 1942, his father was a sailor on the HMS Illustrious as it underwent repairs in Norfolk, Va., to recover from damage inflicted during fighting at Malta.
The theme of this year's Global Agenda series, which is directed and moderated by Julio Carrión, director of the Center for Global and Area Studies and professor of political science and international relations, is "Global Demands, Regional Responses."
The series is free and open to the public. The March 25 presentation had previously been scheduled for Wednesday, March 26.
The series will continue Wednesday, April 23, with a presentation by Susan Shirk, Chair of the 21st Century China Program and Ho Miu Lam Professor of China and Pacific Relations at the University of California, San Diego. 
Article by Elizabeth Adams