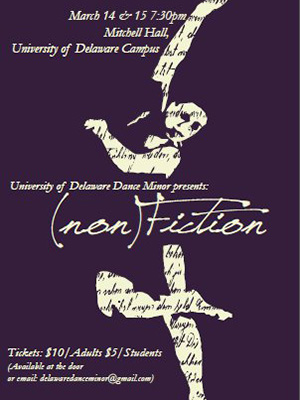 March 14, 15: Dance minor concert
UD dance minor to present concert in Mitchell Hall
11:21 a.m., March 4, 2014--The third annual University of Delaware dance minor concert, titled (non)fiction, will be held at 7:30 p.m., Friday and Saturday, March 14-15, in Mitchell Hall.
The dance program will take audience members on a journey of physical storytelling with pieces created by the dance minor faculty, guest artists, and other artistic collaborations. 
June 5: Blue Hen 5K
University of Delaware graduates planning to attend Alumni Weekend are encouraged to register for the annual Blue Hen 5K walk and run, which will be held Sunday morning, June 5.
June 6-9: Food and culture series
The 20th annual June Lecture Series at the Osher Lifelong Learning Institute at UD in Wilmington will be held June 6-9. Titled 'June a la Carte,' this year's program focuses on great political documents, feminism, world politics and a Newark cuisine sampler.
Creative works in this concert include Boxes by visual artist Maren Hassinger, a partnership between the University Museums and the UD dance minor. This piece is a movement-based interpretation inspired by Hassinger's exhibit, Hanging Boxes and Changing Boxes, which was showcased in Mechanical Hall Gallery during the fall semester.
UD students experienced a traditional African dance and drum residency with Marilyn and Sekou Sylla from Bamidele Dancers and Drummers. Harvest Day will feature a musical performance by special guest, Sekou Sylla along with UD percussion students in the Department of Music. These works were supported through the President's Diversity Initiative along with a piece by guest artist, Elijah Gibson from the prestigious dance department at the University of Illinois at Urbana-Champaign.
Dance minor faculty members Janice Bibik, Kimberly Schroeder, and SarahKim Vennard will also present works fueled by artistic and innovative collaborations. Finally, Sarah Braverman, a senior dance minor at UD, was selected by the dance faculty to create a piece, which is based on the concept of time titled Contagion.
The final act of this year's concert is a large collaborative work led by faculty member Lynnette Young Overby. Based on the story of David Drake and paintings of his pottery by Jonathon Green. Dave the Potter combines the talents of poet Gabrielle Foreman, guest choreographers Vincent Thomas and Theresa Emmons, composer Ralph Russell and support from the Interdisciplinary Humanities Research Center.  The performance will showcase UD dance minors and musicians, as well as performers from the Christiana Cultural Arts Center.
UD's dance minor began in the fall of 2009. To date more than 86 students have formally matriculated as dance minor students. Several undergraduate students take advantage of the variety of dance courses offered to the general student body.
Tickets cost $10 for adults and $5 for students and can be purchased at the door or reserved in advance by sending email to delawaredanceminor@gmail.com. For those ordering in advance, tickets will be held for pickup and payment at the door the night of the performance.
For more information, contact Schroeder, dance minor director, at kschroed@udel.edu or 302-831-3311.