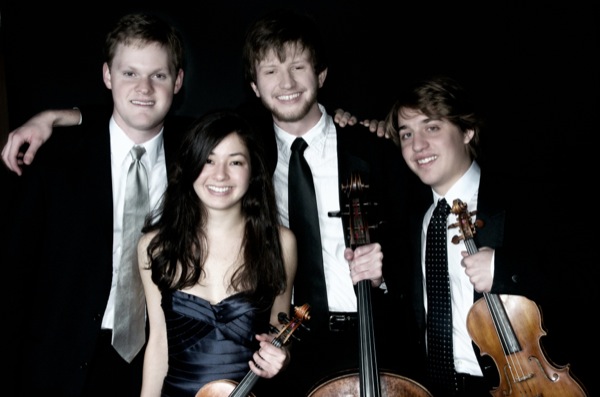 March 14: 'Art of String Quartet'
Aeolus String Quartet makes Delaware debut in Master Players Concert Series
4:05 p.m., March 6, 2014--"The Art of the String Quartet," featuring the award-winning Aeolus String Quartet, will be the next presentation in the University of Delaware's Master Players Concert Series at 8 p.m., Friday, March 14, in the Gore Recital Hall of the Roselle Center for the Arts.
Praised by Strad magazine for its "high-octane" performances, the Aeolus Quartet is among the finest string quartets performing today and will be making its Master Players Concert Series (MPCS) and Delaware debut. 
June 5: Blue Hen 5K
University of Delaware graduates planning to attend Alumni Weekend are encouraged to register for the annual Blue Hen 5K walk and run, which will be held Sunday morning, June 5.
June 6-9: Food and culture series
The 20th annual June Lecture Series at the Osher Lifelong Learning Institute at UD in Wilmington will be held June 6-9. Titled 'June a la Carte,' this year's program focuses on great political documents, feminism, world politics and a Newark cuisine sampler.
Since its inception, the all-American quartet has been awarded prizes at nearly every major competition in the United States and performed across the globe with showings "worthy of a major-league quartet," according to Scott Cantrell of the Dallas Morning News.
Luke Quinton of the Austin-American Statesman wrote, "The Aeolus Quartet is a powerful and thoughtful group of young musicians who are plotting an ascending course ... this vibrant group shows great promise."
The previous MPCS event, "Gold Medalist's Show – A Valentine's Day Event" featuring solo pianist Haochen Zhang, was presented to a sold-out audience. 
The state of the art Gore Recital Hall only seats 200, and because tickets for MPCS events go quickly, purchasing them well in advance is highly recommended.
The Aeolus String Quartet will perform selections from Purcell's Four-Voice Fantasias, Haydn's String Quartet Op. 76 No. 5, and Beethoven's String Quartet, Op. 59 No. 1.
In addition, the Aeolus String Quartet will hold a free master class from 1:25-2:15 p.m., Friday, March 14, in the Gore Recital Hall.
Upcoming MPCS event
Friday and Saturday, April 18 and 19, 8 p.m., Mitchell Hall, "iMusic 7 -- Decoding Music." 
Since its premiere in 2005, the annual season finale iMusic concert created by Xiang Gao, MPCS's founding artistic director, has been the most popular and sold-out event of the series for its creativity and originality.
Continuing its interdisciplinary and unconventional tradition, "iMusic 7 – Decoding Music" will take the audience on a journey to a future concert experience by using cutting-edge visual and audio technology. 
Based on the most advanced research on music and its inner connection with the human brain, many original compositions with visual and audio elements will be created by iMusic creator and producer Gao and world-famous scenic designer Qi Wei, as well as world-renowned visual artists, scientists and scholars. 
Creative musicians from around the world will join Gao on the stage to change the way classical concerts are presented.
A Prelude Dinner hosted by Gao is available on April 19 with limited space. 
For more information, visit the MPCS website.