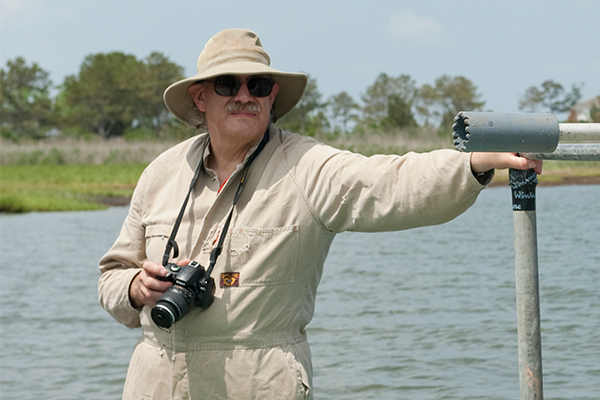 July 17: Ocean Currents lecture
Series continues with discussion of real-time water quality measurements
9:57 a.m., June 27, 2014--The marine environment is complex, with many factors that influence the state and health of these systems. For example, water quality may change very quickly in response to the weather. Scientists keep track of these changes to help make accurate predictions of how weather and climate affect the ecology of these systems.
In the next installment of the Ocean Currents Lecture Series, Bill Ullman, professor of marine and geological sciences in the University of Delaware's College of Earth, Ocean, and Environment, will address the importance of having continuous, high frequency data sets for monitoring estuarine water quality. 
June 5: Blue Hen 5K
University of Delaware graduates planning to attend Alumni Weekend are encouraged to register for the annual Blue Hen 5K walk and run, which will be held Sunday morning, June 5.
June 6-9: Food and culture series
The 20th annual June Lecture Series at the Osher Lifelong Learning Institute at UD in Wilmington will be held June 6-9. Titled 'June a la Carte,' this year's program focuses on great political documents, feminism, world politics and a Newark cuisine sampler.
His talk, titled "Real-Time Water Quality Measurements on Delmarva," will take place on Thursday, July 17, at 7 p.m. in Room 104 of the Cannon Laboratory at UD's Hugh R. Sharp Campus, located at 700 Pilottown Road in Lewes.
Ullman, who has a primary appointment in CEOE's School of Marine Science and Policy, has been collecting data all over Delaware for the past several years in order to answer practical questions. 
For example, in the Nanticoke River, he is trying to determine whether the local wastewater treatment plant's switch from direct routing of treated water into the river to spray irrigation along the banks has had any effect on the nutrient load through that system. 
Another project concerns the Kent County Regional Wastewater Treatment Plant, and determining the extent to which the plant and agricultural sites control the productivity of the Murderkill Estuary.
Ullman's main research focus is how activities in watersheds affect downstream water quality and ecology. Specifically, he looks at nutrient content in the water and other water quality data, such as temperature, salinity, and turbidity to study how weather conditions affect nutrient transport.
In the past, this has not been an easy task because collecting and analyzing samples was a long, arduous process and has returned relatively little data. This made it very difficult to obtain any results other than long-term averages for physical and chemical properties.
"If you're really interested in what the shorter-term controls are, like what's the effect of wind or a rain storm, it's not enough to just do a few samples a year," Ullman said. "For those things, you need to be sampling in such a way as to catch what is happening before the event, during the event, and after the event." 
The introduction of automated sampling and analysis has made it much easier for scientists like Ullman to examine these short-term changes due to weather, because sampling occurs at a much quicker rate; a completed sample set can be collected every hour as opposed to every several days. 
These new samplers are completely autonomous, meaning that there does not need to be a person present to collect the data. In fact, much of the scientific data being gathered by samplers are automatically uploaded to the Internet, where they can be used by both scientists and the general public.
With these new instruments, scientists and managers can immediately begin analyzing environmental data and trends in the data can be determined as the environmental events are occurring. It is no longer necessary to spend hours analyzing samples days after an event in order to see the same results.
With more data and analysis come faster, more accurate conclusions about an event's effect on the environment. Ullman has several years of data from many areas of the Delaware Bay Watershed that can now be cross-referenced with weather information. He can use these data sets in order to link the weather events and the environmental response. This is very important when trying to predict global effects of future climate on ecosystems.
"Given a predicted climate, we can try to get to the question of what would be an appropriate societal response to maintain estuarine and marine resources," he said.
Ullman's lecture is free and open to the public, but reservations are required due to limited seating and can be made by contacting Marcia Pettay at mpettay@udel.edu or 302-645-4346. Light refreshments will be served.
Additional Ocean Currents lectures scheduled for this summer are:
August: Jim Corbett, shipping impacts and innovation in the marine environment.
For more information, visit CEOE's Events Page.
Photo by Evan Krape