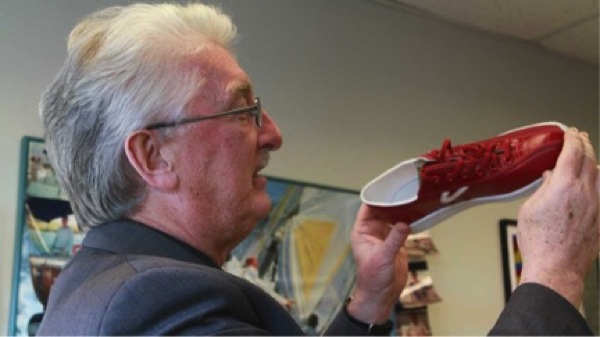 Green design award
UD developed 'eco-leather' earns 2014 World Green Design Award
10:58 a.m., June 16, 2014--The World Green Design Organization has selected University of Delaware Professor Richard Wool's innovative "Eco-leather" for the 2014 World Green Design Award.
Developed in Wool's laboratory at UD, eco-leather is an environmentally friendly, bio-based material that can be produced without the traditional leather tanning process. 
National Medal of Science
President Barack Obama recently presented the National Medal of Science to University of Delaware alumnus Rakesh Jain.
Warren Award
Rosalind Johnson, assistant dean for student success in the NUCLEUS Program in UD's College of Arts and Sciences, was presented the John Warren Excellence in Leadership and Service Award during a May 26 ceremony.
Instead, natural materials such as flax and cotton are combined with plant oils from palm, corn or soybeans under high pressure, then laminated together in layers to create a product that acts and feels like leather, according to Wool, director of the Affordable Composites from Renewable Resources (ACRES) program at UD.
The leather substitute is a collaborative project between Wool's ACRES group and colleagues in UD's fashion and apparel studies department. 
The material is water resistant, but still breathable. The invention has drawn interest from well-known shoe companies and the automotive industry.
Wool's work in developing materials from renewable resources has been widely recognized, most recently with the EPA's 2013 Presidential Green Chemistry Challenge Award. He received the Bio-Environmental Polymer Society's Lifetime Achievement Award and the American Chemical Society's Affordable Green Chemistry Award, in 2012 and 2011, respectively.
Wool plans to call the engineered eco-leather Green Engineered Material, or "GEM." 
Article by Karen B. Roberts