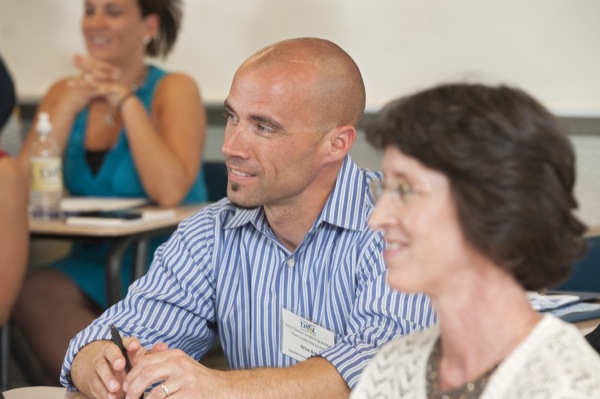 June 25: Policy and Practice Institute
DASL to host annual conference for school leaders, policymakers
8:11 a.m., June 12, 2014--The University of Delaware's Delaware Academy for School Leadership (DASL) will host its 12th annual Policy and Practice Institute on Wednesday, June 25, at the Dover Downs Conference Center. 
This one-day conference offers professional learning and networking opportunities to Delaware's aspiring and practicing school leaders, education policy makers and higher education faculty. 
June 5: Blue Hen 5K
University of Delaware graduates planning to attend Alumni Weekend are encouraged to register for the annual Blue Hen 5K walk and run, which will be held Sunday morning, June 5.
June 6-9: Food and culture series
The 20th annual June Lecture Series at the Osher Lifelong Learning Institute at UD in Wilmington will be held June 6-9. Titled 'June a la Carte,' this year's program focuses on great political documents, feminism, world politics and a Newark cuisine sampler.
Also, it will bring together national and local experts. Conference keynote speakers include Charlotte Danielson, who developed the Framework for Teaching; Frederick Michael Hess, author of Cage Busting Leadership; and Pete Hall, author of Lead On! motivational lessons for school leaders. They will bring a national perspective to conference attendees on issues like teacher evaluation and effective leadership practices.
Breakout sessions will feature several speakers from UD, focused on hot topics in the field of school leadership:
UD's ACCESS project will collaborate with the Department of Education to offer a session on "Effective Administration Practices for Engaging in the IEP Process and Supporting Special Education Services."
Doctor of education candidate Malik Muhammad will speak about best practices to support achievement and success for black and Latino students in "We Can Save Our Boys of Color: 5 Promising Practices."
DASL Director Jackie Wilson, along with practitioners Susan Bunting, Indian River School District superintendent, and Cora Scott, director of education services for Brandywine School District, will lead "The Role of the Principal Supervisor."
This event is being co-sponsored by DASL, the Delaware Association of School Administrators, the Delaware State Education Association and the Delaware State Board of Education.
Registration currently remains open; for information, visit this website.
General questions can be directed to Alison Dubinski, associate, Delaware Academy for School Leadership, at ald@udel.edu.