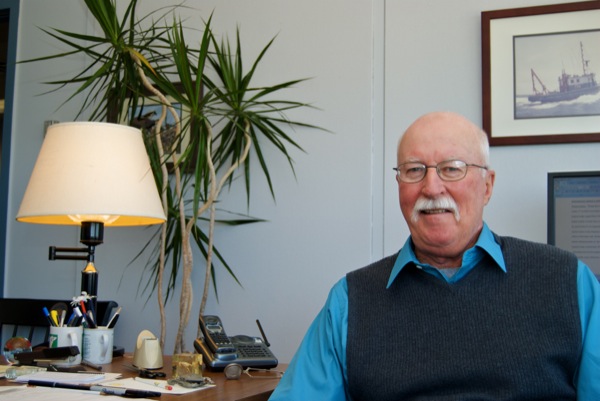 July 18: Ocean Currents Lecture
Series continues with 'wet, wild and windy' history of marine science at UD
10:41 a.m., July 8, 2013--In the more than 60 years since the University of Delaware's marine science program was established in Lewes, it has grown from a small unit operating in a high school basement to one of the most prestigious in the nation. Originally founded to help with diminishing fisheries in Delaware Bay, the program has since expanded and evolved just as much as the community around it.
This progression will be highlighted in the next Ocean Currents lecture, "History of Marine Science at UD: A Wild, Wet and Windy Journey," presented by Charles Epifanio, Maxwell P. and Mildred H. Harrington Professor of Marine Studies. The presentation will take place on Thursday, July 18, at 7 p.m. in Room 104 in the Cannon Laboratory at the Hugh R. Sharp Campus in Lewes.
June 5: Blue Hen 5K
University of Delaware graduates planning to attend Alumni Weekend are encouraged to register for the annual Blue Hen 5K walk and run, which will be held Sunday morning, June 5.
June 6-9: Food and culture series
The 20th annual June Lecture Series at the Osher Lifelong Learning Institute at UD in Wilmington will be held June 6-9. Titled 'June a la Carte,' this year's program focuses on great political documents, feminism, world politics and a Newark cuisine sampler.
The talk will divide the program's history into three segments: early history from 1940-70, the middle period beginning with the creation of the College of Marine Studies and finally the current times marked by the expansion and renaming as the College of Earth, Ocean, and Environment and its attendant School of Marine Science and Policy in 2009.
"This talk is not going to be dry, no pun intended," joked Epifanio. "It is going to be real stories about real people. There won't be a stream of meaningless dates and numbers. This talk will take dates of history and put real world context to them by providing relatable events."
There is a lot of interest in the community about the school's history, Epifanio said, and he will be using his long experience as a faculty member and administrator to talk about the "upward trajectory" the program has been on since its formation.
Epifanio joined UD shortly after the creation of the College of Marine Studies in 1971, and he is the last remaining faculty member from that time period. He has served as researcher, professor, associate director, interim director and associate dean during his impressive tenure.
An expert in the growth and development of fish and crustaceans, Epifanio's research focuses on the biological and physical dynamics that impact yearly variations within populations. Currently, he is working on development models for blue crab recruitment — the addition of a new cohort of juveniles to a population — and factors that affect it. He also studies invasive species of crabs, particularly from Asia such as Chinese mitten crabs, and the effects they have on local populations. 
Over the course of his career, Epifanio has seen a lot change in the University's marine program, but he said what has changed the most is the surrounding community, particularly the demographics, land use, population growth and especially the problems that have risen from these changes and growth.
"It's been impressive to watch the program grow and evolve to keep in lockstep with these problems and policies," Epifanio said.
Epifanio's lecture is free and open to the public, but reservations are required due to limited seating and can be made by contacting Marcia Pettay at mpettay@udel.edu or 302-645-4346. Light refreshments will be served. The Hugh R. Sharp Campus is located at 700 Pilottown Road in Lewes.
The season's final Ocean Currents lecture will be on Aug. 15, featuring Wei-Jun Cai presenting "The Global Carbon Cycle in a Changing Climate."
Article by Andrew Cooper
Photo by Lisa Tossey