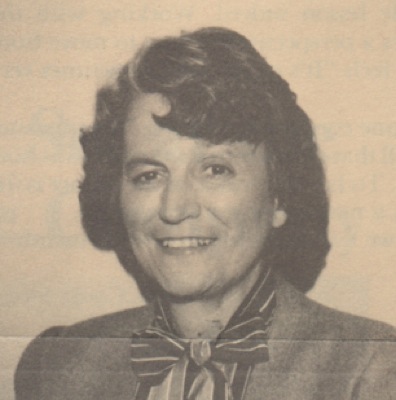 Through July 30: MacArtor exhibit
Library exhibits 'In Memoriam: June D. MacArtor Environmental Guardian'
8:36 a.m., July 8, 2013--The University of Delaware Library has announced a one-case memorial exhibition saluting the legacy of environmental protection championed by the late June D. MacArtor (June 3, 1930-June 13, 2013).
The exhibition, titled "In Memoriam: June D. MacArtor, Esquire, Delaware's Environmental Guardian," will be on display in the Information Room of Morris Library through Tuesday, July 30.
June 5: Blue Hen 5K
University of Delaware graduates planning to attend Alumni Weekend are encouraged to register for the annual Blue Hen 5K walk and run, which will be held Sunday morning, June 5.
June 6-9: Food and culture series
The 20th annual June Lecture Series at the Osher Lifelong Learning Institute at UD in Wilmington will be held June 6-9. Titled 'June a la Carte,' this year's program focuses on great political documents, feminism, world politics and a Newark cuisine sampler.
It presents a selection of speeches, reference clippings, environmental reports and policy research materials from MacArtor's legacy of ardent environmental stewardship.
MacArtor, one of Delaware's first 25 women lawyers, pursued environmental advocacy after what she termed was a "real exciting career" raising four children and the experience of moving her family to California as a corporate spouse in the late 1960s. 
After volunteer experience on environmental, transportation, education, and other committees and leadership in Delaware and California Leagues of Women Voters, MacArtor earned a certificate from the University of Southern California Pollution Control Institute. She obtained her law degree from Villanova University after moving back to Delaware and was admitted to the Delaware Bar in 1974.
MacArtor began her professional career as deputy attorney general in charge of the environmental group of Delaware's Department of Natural Resources, where her job was to create laws and build court cases to establish Delaware's code of environmental law. She vigorously defended the new Coastal Zone Act and was the state attorney in legal action against Getty Oil, netting the largest single fine ever collected at the time.
MacArtor taught environmental law, coastal zone law, enforcement issues, and environmental policy at UD and Widener University.
MacArtor retired as deputy director of the Delaware Division of Air and Waste Management in 1990 but she continued to be active as an environmental watchdog. She served over 20 years on the New Castle County Planning Board and volunteered with the Delaware Nature Society.  MacArtor also remained active with the Delaware League of Women Voters and the Wilmington Women in Business.
An online checklist of items shown in the exhibition will be available. The June D. MacArtor papers are available for research in Special Collections, University of Delaware Library. Additional information is available upon request by contacting Special Collections.
The curator of the exhibition is Rebecca Johnson Melvin, librarian and head, Manuscripts and Archives Department and curator, Joseph R. Biden Jr. Senatorial Papers, University of Delaware Library.