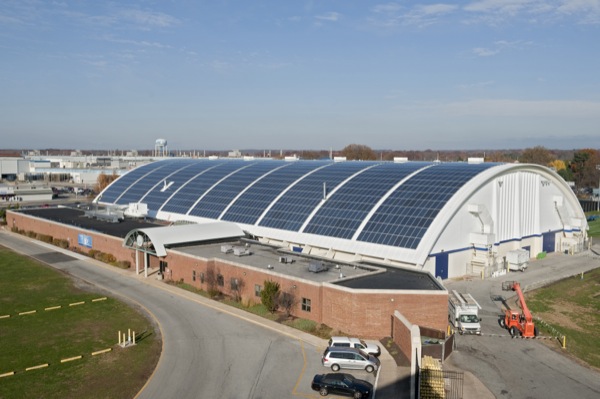 'A Better Newark'
UD wins environmental award from city of Newark
4:03 p.m., July 10, 2013--The Conservation Advisory Commission (CAC) of Newark unanimously voted to present the University of Delaware with the "A Better Newark Award" for the University's efforts to promote conservation and sustainable practices around campus. 
The CAC instituted the award in 1986 to recognize owners of houses and businesses who attempted to improve the appearance of their properties through structural renovations and landscaping, thereby enhancing the image of the entire community. 
National Medal of Science
President Barack Obama recently presented the National Medal of Science to University of Delaware alumnus Rakesh Jain.
Warren Award
Rosalind Johnson, assistant dean for student success in the NUCLEUS Program in UD's College of Arts and Sciences, was presented the John Warren Excellence in Leadership and Service Award during a May 26 ceremony.
Since then, the CAC has expanded the award to include those who have made improvements to properties resulting in energy, soil or water conservation, or overall environmental enhancement.
Ajay Prasad, UD professor of mechanical engineering who also serves on the CAC, nominated the University for the award after a positive experience with UD's Parking Services. When Prasad initially came to the office with a request to install anti-idling signs in an effort to reduce vehicle idling around campus, he wasn't expecting much. "Within a week, there were 30 signs up around campus," he said. 
Newark's anti-idling ordinance states that motorists caught idling a vehicle engine for more than five consecutive minutes in a 60-minute period will receive a warning ticket, followed by a $100 fine.
After that experience, Prasad began to count the various energy efficiency and environmental protection projects at UD and came up with an impressive list. He also reached out to UD Grounds to discover other kinds of projects the University sponsors to promote sustainability and conservation. 
He discovered that UD is responsible for many projects ranging from solar installations, wind power, green transportation and single-stream recycling to green roofs, storm water management and rain gardens. 
For a comprehensive look at the University's commitment to sustainability, click here. 
In addition to the proclamation signed by Newark Mayor Vance Funk, a commemorative photograph will be displayed in the lobby of the Municipal Building. 
Anyone who wants to nominate a Newark property for the award can complete a nomination form available on the city of Newark website or in the Municipal Building. 
Article by Pat Barton
Photo by Evan Krape