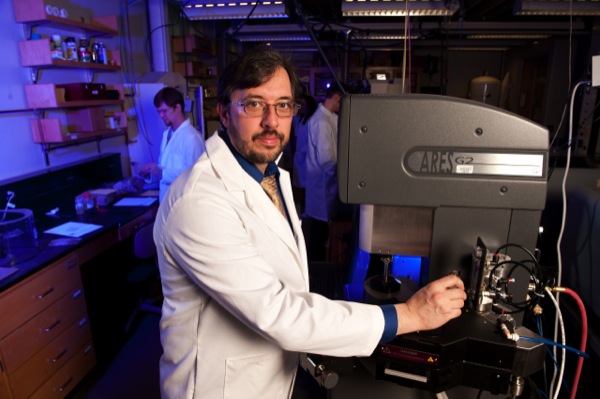 Jan. 27: Smithsonian talk
UD's Wagner to lecture at Smithsonian's 'Going to Extremes' seminar
11:22 a.m., Jan. 21, 2014--The University of Delaware's Norman J. Wagner will be a featured speaker at the Smithsonian's "Going to Extremes: The Protective Powers of High-Tech Materials" evening seminar on Monday, Jan. 27, from 6:45-8:45p.m. 
The seminar will focus on how new materials are being custom-designed to respond to some of the most extreme conditions.
June 5: Blue Hen 5K
University of Delaware graduates planning to attend Alumni Weekend are encouraged to register for the annual Blue Hen 5K walk and run, which will be held Sunday morning, June 5.
June 6-9: Food and culture series
The 20th annual June Lecture Series at the Osher Lifelong Learning Institute at UD in Wilmington will be held June 6-9. Titled 'June a la Carte,' this year's program focuses on great political documents, feminism, world politics and a Newark cuisine sampler.
Wagner, the Alvin B. and Julia O. Stiles Professor of Chemical and Biomolecular Engineering, will discuss his research on liquid armor and its potential to protect soldiers in combat.
The event is presented in collaboration with the Smithsonian's Museum Conservation Institute and the White House Office of Science and Technology. 
Other speakers include Odile Madden, a research scientist from the Smithsonian's Museum Conservation Institute, and Cathleen Lewis, curator of international space programs and spacesuits at the Air and Space Museum.
Wagner's work with shear thickening fluid was featured in an issue of the University of Delaware Research magazine.