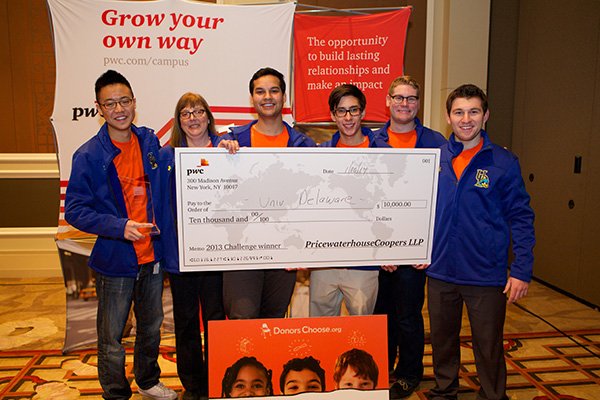 National win
Lerner College student team wins national PwC tax competition
2:16 p.m., Jan. 16, 2014--University of Delaware students William Cobb, Phillip Flesch, Robert Gorecki, David Sang and Nathaniel Taylor were ready to take on their peers from institutions across the country after earning a place in the finals of a tax competition last year, and that's precisely what they did. Placing first out of 567 teams, the students took home top honors and over $10,000 in prize money. 
Held in Washington, D.C., the PricewaterhouseCoopers (PwC) Challenge 2013 brought together student teams from UD, University of Florida, University of Missouri, University of Southern California and University of Virginia to compete.
National Medal of Science
President Barack Obama recently presented the National Medal of Science to University of Delaware alumnus Rakesh Jain.
Warren Award
Rosalind Johnson, assistant dean for student success in the NUCLEUS Program in UD's College of Arts and Sciences, was presented the John Warren Excellence in Leadership and Service Award during a May 26 ceremony.
The UD student team, named GTS Consulting with a nod to some of the students' status as "senior" partners of the team, came to the table with a wealth of experience in other contests. In this national competition, though, they said it wasn't the topic of the case that changed but the level of intensity.
"We built out a comprehensive appendix to help strengthen all aspects of our favorite case," said Sang. "The question and answer session was much more aggressive and we needed to be more thoughtful and confident in our answers."
Gorecki said, using the feedback they received, the team performed well in a number of key areas. 
"Our plan was comprehensive, forward looking and well supported with data," said Gorecki. "Our presentation style was confident, succinct, direct and personalized to each judge's role/character."
Taylor said the team's knowledge was really tested during the question and answer session.
"During the Q&A, it became clear that the team was extremely knowledgeable and well unified," said Taylor. "Most importantly, we developed a sense of trust with the judges where they truly believed what we proposed and if this were a real scenario, they would have hired us."
He also explained the cash prize was split among the team members, adding they received an additional $10,000 to donate to classroom projects of their choice through DonorsChoose.org. 
Deb Dragone, an instructor in the Department of Accounting and MIS who advised and accompanied GTS Consulting to the finals, said the competition was impressive.
"The UD team was confident, professional and knew their material cold," she said. "One of the comments from the PwC judges regarding the case and the UD team was that the team worked well together; that it was evident that they enjoyed working with each other and made the case client want them as a consultant."
Flesch said the team felt very fortunate to have support throughout the competition.
"In addition to our faculty adviser Deb Dragone, Craig Cleaver, a PwC partner, and members of campus sourcing, Maggie McDowell and Jackie Eckhoff, provided us with a number of critical tips and feedback during practice that made a tremendous difference in the final presentation," said Flesch. "Before we left for the winter break, our team also held a practice session with a number of Lerner College faculty, which was also extremely helpful in identifying areas of improvement in our proposal."
Cleaver, who recruits for PwC on UD's campus and is a 1998 graduate of the Alfred Lerner College of Business and Economics, said what made the team's presentation that much more impressive was that they presented to a judging panel of five senior leaders of PwC's tax area.
"The discipline and maturity the GTS consulting demonstrated, not to mention their commitment to the whole case, was outstanding," said Cleaver. "Their knowledge of the case, depth of their recommendations and presentation skills were on such a professional level, it would be tough to distinguish them from PwC staff."
Throughout the experience, GTS Consulting memberssaid they were also able to have some fun, from a private tour of the Newseum in Washington, D.C., to a reception and welcome dinner prior to the competition.
"The day started with a variety of learning sessions and workshops," said Sang. "Around noon, our team was up to present. After our case, we all did a team building exercise in which we constructed a hovercraft and raced. Finally, we had the awards ceremony and a celebratory dinner after."
"The experience was amazing," said Cobb. "It will forever be one of my favorite memories in college."
Article by Kathryn Meier