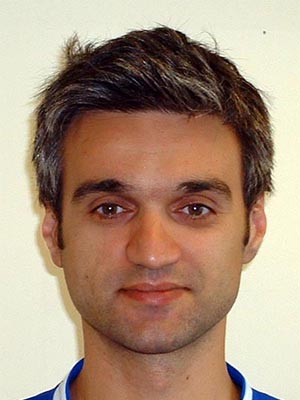 NSA Young Investigator
UD's Cioabă receives federal grant for mathematics research
11:28 a.m., Jan. 9, 2014--Sebastian Cioabă, assistant professor of mathematical sciences at the University of Delaware, has been awarded a Young Investigator Grant from the National Security Agency (NSA) Mathematical Sciences Program to support his research in graph theory.
The NSA established the program in 1987 in response to what the agency calls "an increasingly urgent need to support mathematics in the United States." The Young Investigator Grant funds unclassified work and is available to promising researchers who have earned their doctorate within the past 10 years.
National Medal of Science
President Barack Obama recently presented the National Medal of Science to University of Delaware alumnus Rakesh Jain.
Warren Award
Rosalind Johnson, assistant dean for student success in the NUCLEUS Program in UD's College of Arts and Sciences, was presented the John Warren Excellence in Leadership and Service Award during a May 26 ceremony.
Cioabă's grant, which began in June 2013 and will continue for two years, focuses on his research in graph theory, in which he studies abstract models of networks. 
"Graphs can be studied from a combinatorial point of view, but also can be investigated from algebraic, probabilistic and geometric perspectives," Cioabă said. He works in algebraic graph theory.
In his proposal to the NSA he noted that, "The Internet can be regarded as a large graph, where the vertices are the web pages and the edges correspond to the hyperlinks." Graph theory, he wrote, is the main tool for investigating large information networks, with applications in such areas as network design and routing network traffic.
"The size of such networks is often very large … and analyzing their structure by brute force is not feasible," Cioabă said. "The challenge is to use a small number of parameters [that] capture the shape of the network."
Cioabă joined the UD faculty in 2009 after earning his doctorate at Queen's University at Kingston in Ontario, Canada. He held postdoctoral fellowships at Queen's and at the universities of Toronto and California at San Diego. 
Article by Ann Manser