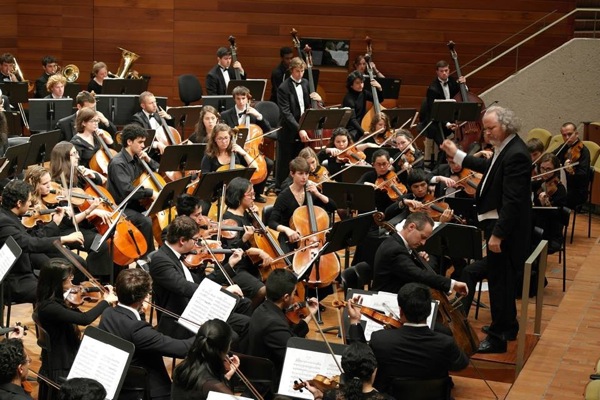 Feb. 2: Delaware Honors Orchestra
Gao, UD faculty artists to share stage with young music stars of Delaware
9:18 a.m., Jan. 14, 2014--The 2013-14 Master Players Concert Series (MPCS) season continues with a winter concert featuring the Delaware Honors Orchestra at 3 p.m., Sunday, Feb. 2, in Mitchell Hall on the University of Delaware campus in Newark. 
General seating tickets for this special event are $10 each at the door, with tickets available beginning at 2 p.m. the day of the concert at the Mitchell Hall box office.
June 5: Blue Hen 5K
University of Delaware graduates planning to attend Alumni Weekend are encouraged to register for the annual Blue Hen 5K walk and run, which will be held Sunday morning, June 5.
June 6-9: Food and culture series
The 20th annual June Lecture Series at the Osher Lifelong Learning Institute at UD in Wilmington will be held June 6-9. Titled 'June a la Carte,' this year's program focuses on great political documents, feminism, world politics and a Newark cuisine sampler.
The Delaware Honors Orchestra Festival (DHOF), presented by MPCS, provides an opportunity for young string players in grades 7-12 studying in Delaware or with a Delaware private teacher to participate in a concert event while Delaware All-State Orchestra is postponed to 2015, as part of the educational commitments made by MPCS. 
MPCS is collaborating with the UD Community Music School and passionate music educators in the area to present the 2014 Delaware Honors Orchestra Festival, allowing young musicians to audition, rehearse and perform in this top quality youth orchestra under the artistic direction of UD faculty conductor James Anderson. 
The first half of the concert will feature guest artists performing with selected young soloists from the orchestra including faculty violist Esme Allen-Creighton, faculty violinist Xiang Gao, and faculty cellist Larry Stomberg as well as guest violinist Justin Chou, all of whom will also serve as the faculty of the festival. 
MPCS is committed to promoting music education while transforming the way music is experienced in the tri-state area. Click here to learn about MPCS 2013-14 season School Program offerings.
Another artist faculty member for the 2014 DHOF is Craig Thomas, UD faculty bassist. Master classes by these artists will be provided to the young string players during the course of the festival.
Upcoming events
Friday, Feb. 14: Gold Medalist's Show, 8 p.m., in Gore Recital Hall of the Roselle Center for the Arts. This year, MPCS launches another innovative concert, the Gold Medalist's Show, which celebrates top prizewinners of international music competitions.
Many Americans remember the legendary American pianist Van Cliburn, who won the Tchaikovsky International Piano Competition held in Moscow during the Cold War. Since then, the Van Cliburn International Piano Competition has become one of the most important piano competitions in the world. 
Haochen Zhang, a native of Shanghai, China, was the Gold Medalist of the 13th Van Cliburn International Piano Competition held in 2009. Invited by MPCS, Zhang will give the inaugural performance of this new event with his personal interpretation of romantic solo piano music by Beethoven, Debussy, Brahms and Stravinsky.
After a romantic dinner, bring a valentine to the concert to enjoy one of today's most promising pianists. An MPCS Prelude Dinner will be held with speaker James Anderson, director and conductor of the UD Symphony Orchestra, from 5-7:15 p.m. on Friday, Feb. 14. See the Prelude Dinner page for details.