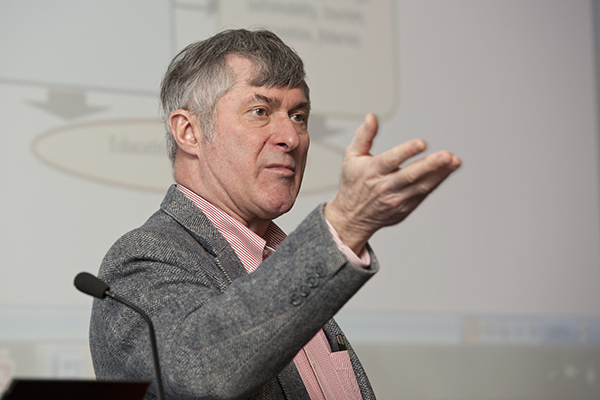 Oceanographer honored
CEOE's George Luther named fellow of the Geochemical Society
9:39 a.m., Jan. 30, 2014--Oceanographer George Luther, Maxwell P. and Mildred H. Harrington Professor of Marine Studies in the University of Delaware's College of Earth, Ocean, and Environment (CEOE), has been named a fellow of the Geochemical Society. 
The honor is given to outstanding scientists who have made significant contributions to the field of geochemistry, the study of chemical reactions driving geological processes.
National Medal of Science
President Barack Obama recently presented the National Medal of Science to University of Delaware alumnus Rakesh Jain.
Warren Award
Rosalind Johnson, assistant dean for student success in the NUCLEUS Program in UD's College of Arts and Sciences, was presented the John Warren Excellence in Leadership and Service Award during a May 26 ceremony.
Luther previously received the C.C. Patterson Award from the society, which announced this month that all past and future recipients would also become Geochemical Fellows. Luther received the award in 2004 for his innovative research in environmental geochemistry. 
"George is the type of scientist who develops new, innovative tools to tackle environmental questions," said CEOE Dean Nancy Targett. "His creativity and commitment to scholarship make him a valued member of the University of Delaware faculty and the scientific community at large." 
Luther joined the University of Delaware in 1986, and in addition to his primary position in CEOE, he holds joint appointments in the departments of Chemistry and Biochemistry; Civil and Environmental Engineering; and Plant and Soil Sciences. 
Early in his career, he created microelectrode sensors that can measure the chemical composition of marine sediment in place. He has used the sensors and other methods to trace the movement of iron, manganese and other elements through marine environments, considering the connections with surrounding organisms.
"Chemistry is an essential science, because so much depends upon it," he said.
His field sites span the globe, from Delaware Bay marshes to the Black Sea to hydrothermal vents at the bottom of Pacific Ocean. In March he will help field test new modifications to the deep-diving submersible Alvin, including the 17-ton titanium sphere that scientists occupy.
Luther has published more than 230 articles in scientific literature, including four in Nature, four in Science and two in the Proceedings of the National Academy of Sciences, and he serves as editor-in-chief of Aquatic Geochemistry. 
He has been widely lauded in recent years for his professional accomplishments. In 2006 he received UD's highest faculty honor, the Francis Alison Award. He was named a fellow of the American Association for the Advancement of Science in 2011 and the American Geophysical Union in 2012. Last year, he received the Geochemistry Division Medal from the American Chemical Society. 
Luther will be among those recognized as a Geochemical Fellow at the 2014 Goldschmidt Conference. 
About the Geochemical Society
The Geochemical Society promotes the application of chemistry to solve geological and cosmological problems. Members represent such fields as organic geochemistry, high and low-temperature geochemistry, meteoritics, fluid-rock interaction and isotope geochemistry. 
Article by Teresa Messmore
Photo by Evan Krape