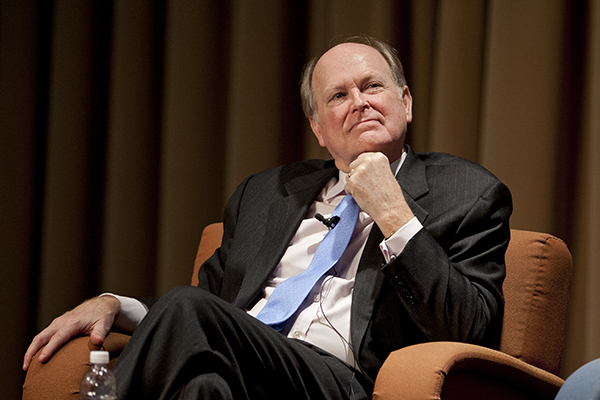 Feb. 11: Economic forecast
UD, Lyons Companies set 2014 Economic Forecast at Clayton Hall
1:57 p.m., Jan. 14, 2014--Charles I. Plosser, president and chief executive officer of the Federal Reserve Bank of Philadelphia, will be a featured speaker at the 2014 Economic Forecast to be held at 8:30 a.m., Tuesday, Feb. 11, at Clayton Hall on the University of Delaware's Laird Campus in Newark.
The annual event, hosted by Lyons Companies and UD's Center for Economic Education and Entrepreneurship (CEEE) and Alfred Lerner College of Business and Economics, brings together distinguished voices that influence, determine and interpret U.S. economic policy.
June 5: Blue Hen 5K
University of Delaware graduates planning to attend Alumni Weekend are encouraged to register for the annual Blue Hen 5K walk and run, which will be held Sunday morning, June 5.
June 6-9: Food and culture series
The 20th annual June Lecture Series at the Osher Lifelong Learning Institute at UD in Wilmington will be held June 6-9. Titled 'June a la Carte,' this year's program focuses on great political documents, feminism, world politics and a Newark cuisine sampler.
Plosser will present his views in a panel discussion along with H. Lawrence Culp Jr., president and chief executive officer of Danaher Corporation, and Michael K. Farr, president of the portfolio management firm Farr, Miller and Washington LLC and author of The Arrogance Cycle. Jon Hilsenrath, chief economic correspondent with the Wall Street Journal, will moderate the panel discussion.
Prior to his current role with the Federal Reserve Bank of Philadelphia, Plosser was the John M. Olin Distinguished Professor of Economics and Public Policy and director of the Bradley Policy Research Center at the William E. Simon Graduate School of Business Administration, where he also served as dean from 1993 to 2003.
He is the author of numerous academic articles and a participant in scores of professional seminars and conferences, and has lectured to academic and business audiences worldwide on topics ranging from management education to economic and public policy issues. He was previously a featured speaker at the 2012 Economic Forecast.
Plosser was a member of the New York State Board of Economic Advisors and has served on the board of directors of ViaHealth Inc. and RGS Energy Group Inc. He has also served on advisory boards of the New Enterprise Forum and the University Technology Seed Fund LLC.
Culp, who began his Danaher career in 1990 at Veeder-Root, has held a variety of leadership positions with the company, ultimately playing a key role in the creation of the company's strategic vision, including the evolution of Danaher's portfolio to a leading science and technology company.
Farr, a featured speaker at the annual conference since 2009, is responsible for overseeing the day-to-day activities of his firm. He is a paid contributor for CNBC television and has appeared on The Today Show, Good Morning America, NBC's Nightly News, CNN, BloombergTV, Reuters and the Nightly Business Report.
Carlos J. Asarta, director of the CEEE, will open the event by presenting the James B. O'Neill Award for Excellence in Economic Education and Entrepreneurship, recognizing 2014 recipient John W. Himes, former DuPont senior vice president of corporate strategy and current Delaware Council on Economic Education board member.
Business and community leaders, educators and students will be in attendance. The speakers will make their presentations and engage in a panel discussion. Following the discussion, speakers will take questions from the audience.
The event is free and open to the public, but seating is limited and reservations are required. UD students and faculty are encouraged to attend. For registration and information, see the website.
About the Center for Economic Education and Entrepreneurship
The Center for Economic Education and Entrepreneurship in the Alfred Lerner College of Business and Economics was founded in 1971 to address the absence of economics in the K-12 curriculum with the goal of ensuring all students graduating from Delaware high schools would be well grounded in economics and personal finance with the knowledge and skills to be productive citizens.
About Lyons Companies
The Lyons Companies is Delaware's largest independent risk management and insurance brokerage firm offering commercial insurance, employee benefits consulting and personal insurance through offices in Wilmington and Rehoboth Beach. Lyons Companies has been honored for best practices in its industry, excellence in business and is recognized as one of the fastest-growing companies in the region and the nation. Founded in 1984, Lyons is a partner of Assurex Global, a partnership of independent insurance and risk management brokers worldwide.
Article by Kathryn Meier
Photo by Evan Krape